Join the tour: the National Trust explores the architectural heritage of Croydon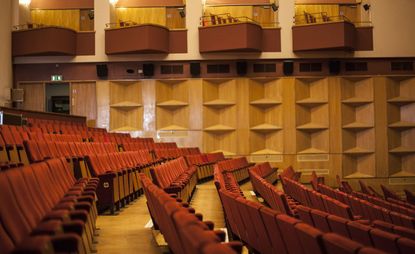 (Image credit: Sophia Schorr-Kon)
London's satellite town of Croydon has long suffered bad press for its poor urban planning and architectural hotchpotch. But in the 1950s and 60s it was filled with high aspirations and set out to build a new society. Hence the myriad office blocks that went up, meaning workspace mushroomed from 1 million sq ft in 1962 to 5 million sq ft seven years later.

Probably the smartest new arrival was Richard Seifert's No 1 Croydon (formerly NLA House), with its 23 octagonal storeys. Seifert was also responsible for Corinthian House, which made a nod to Le Corbusier with its V-shaped concrete piloti. Both of these are on the itinerary of 'Edge City: Croydon', the National Trust's tours of Croydon's mid-century delights, which run this month.

Joseph Watson, London creative director of the National Trust, says: 'Love it or loathe it, it is indisputable that Croydon stands for a post-war ambition that few other places can match. Its irrepressible spirit is what we seek to uncover.'

Also on the agenda is Robert Atkinson & Partners' Fairfield Halls. The theatre, which was heavily influenced by the capital's Royal Festival Hall, is currently undergoing a £30m transformation into an arts cultural centre by Rick Mather Architects. The Camden studio is well positioned for such a commission, having worked on the regeneration of Seifert's Centre Point tower, and on a masterplan for the South Bank Centre.

Croydon's architectural euphoria was sadly short-lived, and its business ambitions were scuppered by the construction of Canary Wharf in London's Docklands. In the 1990s, leading architects such as Terry Farrell, Richard Rogers and Birds Portchmouth Russum came up with ideas to reinvent Croydon. A decade later Will Alsop created a new masterplan. And now yet another effort to reinvent the 342,000-strong borough is underway, which includes £750m worth of housing, public realm and a new college around Fairfield Hall. Maybe this time, Croydon will truly be reborn.
INFORMATION
'Edge City: Croydon – The Tours' are available until 24 July. For more information, visit the National Trust website (opens in new tab)

Photography: Sophia Schorr-Kon