The Museum of Amazonian Science offers global hope and sustainability
An environmentalist's ambitious project includes the Museum of Amazonian Science in Brazil and fulfils his vision of powering up the local bioeconomy and saving humanity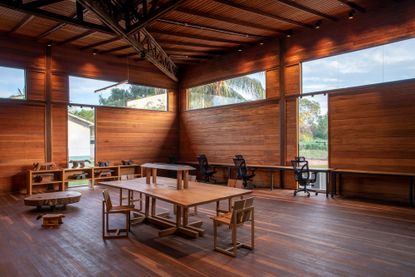 (Image credit: Maira Acayaba)
After nearly two decades of work, entrepreneur and environmentalist Luiz Felipe Aranha Moura is launching his plan to bring the municipality of Belterra, Brazil, back to the future. His visionary new Museu de Ciência da Amazônia, also known as MuCA, or the Museum of Amazonian Science, is an ambitious project that builds on fascinating local history, and has been made possible with the help of a team of high-powered collaborators, including the celebrated Brazilian architect Arthur Casas (whose monograph, Arthur Casas. Architecture, was recently published).
Museum of Amazonian Science: the origins
Belterra was created by Henry Ford in 1933. The American car manufacturer was trying to establish independent large-scale rubber production for his company, having unsuccessfully attempted to create a utopian city called Fordlandia in the heart of the Amazon five years earlier. He took the learnings from the missteps that led to Fordlandia's resounding failure and doubled down, building what became Belterra in the image of his home town of Dearborn, Michigan. As a result, the city was laid out like an early American suburb, with hundreds of wooden buildings arranged in rows off a main street, uniform in white and emerald green and in contrast with the typical architecture of the local Tapajós culture.
While Belterra was more successful than its predecessor, the Ford Motor Company ultimately abandoned both operations when rubber production in Asia resumed after World War II, leaving behind an idiosyncratic architectural legacy tainted by Ford's insistence on imposing American ways of working and living on the local populations.
The contrast between Ford and Moura could not be starker. One can hear the latter's reverence for the Tapajós culture and the local people in his voice as he explains the project's potential and their roles in it.
A chemical engineer by training, the São Paulo-born Moura is the founder and CEO of a food business producing spirulina, an algae-based, nutrient-rich supplement. But serving as director of this expansive not-for-profit project is clearly his first love: 'I am passionate about the Amazon forest and its potential. The Tapajós Valley will be a new Silicon Valley for biotechnology, and can play a major role in saving humanity. I have always wanted to be a part of that.'
MuCA, therefore, is far more than a museum. It is a large, multi-dimensional project, the breadth and depth of which rivals Ford's effort here, with the potential to have a far more positive impact. It involves nearly two dozen government and non-governmental agencies, strategic partners, consultants and donors, with a multi-pronged mission to create educational and economic opportunity for locals, revitalise Belterra, and help stop deforestation locally and across the wider Amazon rainforest.
Museum of Amazonian Science: the vision
The project will offer education and support for students, businesses and entrepreneurs to create a local biodiverse economy. In the coming years, MuCA will train hundreds of people in the region to work in sustainable forest services, and support scientific research in the Amazon. By creating a sustainable supply chain for the Amazon's most valuable ingredients, that is accessible to local companies and contractors, it is hoped the incentive will shift from raising cattle or growing soybeans (the main drivers of deforestation) to harvesting and selling the plethora of compounds that thrive naturally there, such as jambú. Also known as the Botox plant for its anti-ageing properties, this is much in demand by the pharmaceutical and beauty industries.
These ingredients can be responsibly extracted, using methods employed by the Tapajó people for centuries and which do not require deforestation. Until now, the missing link has been the lack of a proving laboratory and the requisite processes and certifications needed for small companies and independent contractors to realise top prices by selling directly to consumers.
Working with the Federal University of Western Pará (UFOPA), MuCA will provide that support platform, creating the first advanced jungle laboratory in the Amazon. This will help streamline the supply chain, maximising profit for local entities while minimising ecosystem damage. Previously, beef and soybeans were the most profitable commodities. The big bet is that, as the incentive structure shifts, so will business practices. The laboratory will also lead food science, medical, phytopharmaceutical and biocosmetic studies using native animals, plants and micro-organisms to develop new products and promote more sustainable bioeconomies. It is also the beginning of the use here of ESG (environmental, social and governance) protocols, which are already in operation elsewhere across the globe.
The MuCA building took four years to complete, and was designed by São Paulo-based architect Gino Caldatto Barbosa. Prior to construction, Moura had to work with local and state governments to create the protected park within which the building sits. The area is home to some of the most significant of Ford's buildings and was originally called 'American Village', a name that has been maintained.
In addition to extensive laboratory facilities and true to its name, MuCA also contains exhibition space, which will launch with a show called 'Vida', demonstrating
the connections between the Amazon forest and societies around the world. It was designed by the São Paulo-based Atelier Marko Brajovic, which also created MuCA's brand identity. A 50-seat auditorium is filled with custom-designed furniture by Arthur Casas and is inspired by centuries-old Tapajó motifs.
The theatre's seating, alongside all of the project's furniture, was made by Coomflona, a regional woodworking co-operative that uses only sustainably-sourced local wood and traditional techniques. The group's heritage-rich approach also informed Casas' furniture designs. At the building's heart will be an open-air café and co-working space, lush with the landscaping work of MuCA's botanists, who specialise in Amazonian flora and its restoration.
Museum of Amazonian Science: the future
The completion of the building is a tipping point for the project, but it is just the first phase in a master plan to revitalise the city in support of MuCA's mission. Casas
has designed a group of new administrative buildings for the Belterra city government, which is vacating Ford's nearby houses to make way for a five-star hotel, another Casas design. The six new buildings blend Brazilian modernism and Tapajó tradition: low-slung modern shapes incorporating perforated wood screens and slatted façades, thatched accents, and open-air courtyards with native trees poking above flat roof lines with solar panels. They are all connected by a wooden walkway elevated above the jungle floor.
Casas is also renovating one of the most significant of Ford's houses, once reserved
for the auto baron himself, into a culinary school, research kitchen and tasting restaurant by Le Cordon Bleu Brasil, called Centro da Cultura Alimentar Tapajônica, or Tapajônica Cultural Food Center. Launching later this year, revered chef Saulo Jennings will prepare Amazonian ingredients and Tapajó cuisine for students and visitors alike.
The image of the Amazon for foreigners and Brazilians alike is that of a fascinating world of flora and fauna, but challenging and uncomfortable for its mosquitoes and associated health risks. But Belterra is different. While part of the Amazon, the area lacks the particular insect population that limits tourism to the most intrepid travellers. Here, it is easy to imagine the city's future as a cultural, educational and leisure hub, with MuCA at the heart of it all.
It will start with Casas' five-star hotel. Talks are ongoing with two major luxury hotel brands to operate the hospitality component of the project, which Casas has located partly in a number of the historic Ford houses within American Village, and partly in new-build villas and an impressive clubhouse at the edge of the Tapajó river. This boasts stunning, clear water and, for eight months of the year when the river is low, white sandy beaches. The idyllic environment and pleasant climate hint at even more long-term potential for the area. It will likely continue with riverfront holiday homes tucked away under the canopy of the Amazon rainforest and a revitalised downtown Belterra. There is even a private airport built by Ford, which remains in relatively good condition.
But the likely boom in tourism and second home ownership in this somewhat unlikely place is not the story. It is a story of vision and dedication to people and the environment on the part of Mouro and his partners, and one of redemption and progress for a city abandoned long ago, for its people, their culture and their forest, and hopefully, over time, the global environment.
A version of this story appears in the May 2023 Issue of Wallpaper*, available now in print, on the Wallpaper* app on Apple iOS, and to subscribers of Apple News +. Subscribe to Wallpaper* today