Murado & Elvira reimagines a 17th-century library on the west coast of Spain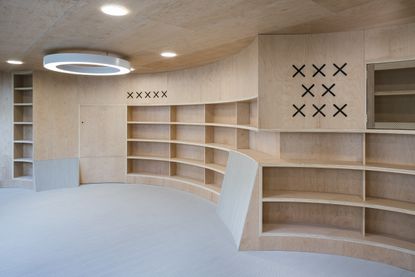 (Image credit: Hector Santos-Diez and Imagen Subliminal)
Madrid-based architecture firm Murado & Elvira has completed the restoration of a municipal library and historic archive in Spain. The refreshed interior includes reimagined details of the original stone construction and multi-functional curved maple wood walls.

Located in Baiona on the west coast of Spain, the library was originally home to the 17th-century Sancti Spiritus Hospital. The building sits in a historical context behind the ex-collegiate church of Santa María and within the city's sloped, narrow streets.

The project began back in 2010, when Murado & Elvira won the Baiona City Council competition and were tasked to breathe new life into the building without erasing its history. Having undergone major alterations internally and externally, the two-level, 1076.5sq m library had lost some of its character over the centuries, which the architects sought to restore.
An outdoor courtyard showing the restored exterior of the library.

Inside, stone walls in the archive's hallway display a treasure trove of archaeological delights, while a former stone step of the existing building was creatively reimagined as a seat; the stone, recalling the nostalgia of the former existing granite structure, yet warmed by the modern maple wood interior architecture throughout.

The children's library is cocooned in the comforting maple wood, featuring multi-functional curved walls that double as integrated shelving, furniture and hidden spaces – including a secret door and puppet theatre. One of three staircases leads up to the main room on the upper floor – a vast open-plan expanse, defined by its circular skylights, an existing stone wall (of the original structure) and quirky cut out study booths.
The open-plan upper floor space with circular skylights and a preserved stone wall.

Transverse hallways and staircases connect the interior to the outdoor courtyard that is embellished with custom-designed lamps and a sleek garden fountain.

Set to become a favourite haunt for young and old alike, Baiona's library provides a dynamic environment in which creativity can thrive to benefit society and nature. The design stands both as a landmark of the future and homage to the past, revealing a unique, bibliophile's utopia. This creative and sensitive rejuvenation is proof that libraries are much more than buildings filled with books.
INFORMATION
For more information, visit the Murado & Elvira website
Receive our daily digest of inspiration, escapism and design stories from around the world direct to your inbox