Melbourne's MPavilion reflects upon its contribution to urban health
The MPavilion – an annual temporary architectural pavilion commissioned by the Naomi Milgrom Foundation – has launched a new book, featuring essays by participating architects including Amanda Levete, Bijoy Jain and Rem Koolhaas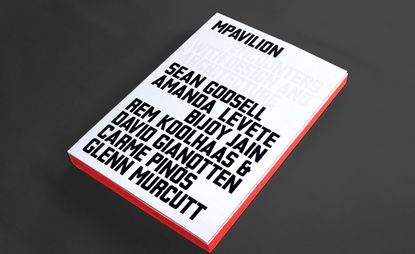 (Image credit: press)
Since it's first edition six years ago, the MPavilion has become a highly-anticipated event for the city of Melbourne and all architects, collaborators and visitors involved. An initiative of the Naomi Milgrom Foundation, the pavilion is hosted in Queen Victoria Gardens and designed by a new architect each year. It is a worthy example of the benefits that architecture can have on public spaces and the urban community – Wallpaper* has keenly followed its evolution over the years, with favourite designs including Carme Pinos' dynamically unfolding timber canopy and Glenn Murcutt's light and low-slung pavilion inspired by a Balinese house.
The Naomi Milgrom Foundation has now launched a new book to chart the success of the MPavilion – bringing together stories about its social impact through images and essays by architects and writers. The MPavilion is a core part of the foundation's mission: enriching Australian cultural life by engaging new audiences with exceptional art, design and architecture and exploring the social, economic and environmental value of architecture.
Featuring contributions from each of the MPavilion architects from 2014 to 2019 – Sean Godsell, Amanda Levete, Bijoy Jain, Rem Koolhaas, David Gianotten, Carme Pinós, and Glenn Murcutt – the book also celebrates the collaborators behind the scenes and what goes into the building of an iconic city pavilion.
Essays on each pavilion by distinguished writers, including Ellie Stathaki, Wallpaper* architecture editor, explore in detail the design approach, expression and impact of the commission. The book aims to open up a broader conversation about cities, pavilions, parks and public spaces today, and their role in creating healthier places to live and work.

Reflecting on the book, Carme Pinós, founder of Estudio Carme Pinós said: 'Architecture is a service to society; it changes people's lives and makes society possible. That's why I liked Naomi Milgrom's MPavilion project— it's social, and it's for the citizens to use. We need to find a new language and that time has come. It's time for free and flexible architecture.
INFORMATION
MPavilion: Encounters with Design and Architecture, published by Thames & Hudson Australia. Available from 18 August 2020