Glenn Murcutt unveils 2019 MPavilion in Melbourne's Victoria Gardens
With lightness, shelter and the ephemeral in mind, Australian architect Glenn Murcutt has designed the newly opened 2019 MPavilion in Melbourne's Victoria Gardens as a climate-conscious lantern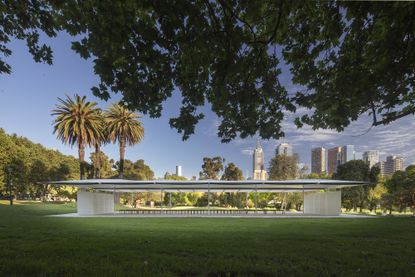 (Image credit: John Gollings)
Architect Glenn Murcutt, recipient of the Pritzker Architecture Prize in 2002, has unveiled his MPavilion design in Melbourne. Murcutt was another inspiring choice by MPavilion's founder Naomi Milgrom, who has showcased some of the world's, as well as Australia's leading architects through the annual summer pavilion commission. In practice for 50 years, Murcutt notably introduced the simple farm-style shed vernacular to the country's unique landscape.

In Victoria Gardens, Murcutt's long and low-slung MPavilion celebrates not only the architect's love of the Australian landscape, but also his ability to reduce architecture to its bare, yet essential components. For the opening on Thursday 14 November, visitors could experience the simplicity and elegance of Murcutt's design in a public city location. His concrete Australian Islamic Centre (opens in new tab) can also be found in Melbourne, yet many of his works are located in the countryside.

Orientated to the Yarra River and Melbourne's city skyline, Murcutt's pavilion features a lightweight membrane roof supported by fine steel poles, not dissimilar to a tent. The structure's concealed lighting gives the roof a 'floating' feel, evoking the phrase that's often associated with Murcutt's architecture: 'Touching the earth lightly'. At the two furthest end of the pavilion, timber-battened cupboards reminiscent of those in a Balinese home conceal storage and are reminders of Australia's position within the south-east Asian region.
'I felt a crisp white building, that at night could be lit from within its roof – like a lantern in the Queen Victoria Gardens, would give the pavilion a feeling of lightness. It felt appropriate for this location,' says Murcutt, who as with all his buildings, is acutely conscious of the local climatic conditions.

Naomi Milgrom AO, chair of the Naomi Milgrom Foundation, who commissioned Murcutt, says, 'Glenn's 50-year practice has inspired a new movement in thinking about climate-responsive design. His MPavilion refines the Australian characteristics we've all come to love about his buildings, and provokes a conversation about how Australian design can lead a growing international conversation about the future of cities.'
INFORMATION
mpavilion.org (opens in new tab)