Michael Maltzan lightens the mood in Houston with his first brick project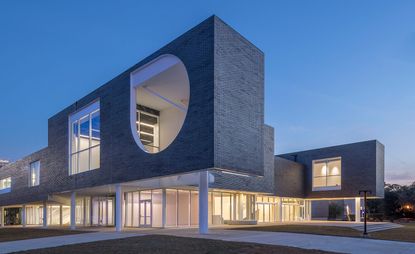 (Image credit: Nash Baker)
If you are an amply endowed institution of higher education in need of a striking new building for a particular function or department, there are plenty of architects who are up to the task. But if it's that elusive bridging of disparate fields, seeding collaboration and fostering connection you're after? Call on Michael Maltzan. Rice University did just that a few years ago, and now its leafy campus in Houston, Texas is home to the Maltzan-designed Moody Center for the Arts: a dynamic container for creation, experimentation, and presentation.

'We're a different kind of a space,' says Alison Weaver, executive director of the Moody (named for the Texas-based foundation that provided most of its $30 million cost), which opened to the public last week. 'We're not a typical museum. We're not a typical campus building or classroom building. We're really trying to do something new here – something innovative and somewhat radical in its approach.'

Encompassing exhibition spaces, classrooms, a 150-seat black box theatre, a maker lab (wood shop, metal shop, paint booth, rapid prototyping wizardry), and a café, the 52,465 sq ft Moody Center is remarkable in its range, but Maltzan's design doesn't merely corral multiple programs under one skylight-punctuated roof. Instead, it seizes upon the elasticity of architecture to integrate adjacent and simultaneous activities, connecting them to one another, the Rice campus, and the world beyond its tree-lined quads.
'One of the primary tools that we've used in the architecture is real transparency and openness,' says Los Angeles-based Maltzan, pointing to the two-storey building's expansive sight lines, abundant floor-to-ceiling windows, and multiple entrances bracketed by 'starburst' columns positioned to align with existing pathways around the campus. 'That transparency from outside to in and also from inside to outside makes this building a true beehive of activity – almost a microcosm, like a small village or city.'

Invigorated rather than intimidated by complexity, Maltzan is a master collapser – of discrete territories and disciplines, of building and landscape, of architecture and urban design. The Moody reveals Maltzan's equally formidable skills as a choreographer. To pass through the building is to encounter a myriad of spaces and scales ranging from intimate (an office, an audio-visual editing suite) to communal (a soaring double-height central studio crowned by a graphic constellation of LED lighting), all interwoven by strategically placed apertures, overlooks, and fissures that create opportunities for chance encounters and discovery.

With a dusky exterior that contrasts with its luminous white insides (purists will pine for monochromatic furnishings, but students seem to be enjoying the plush, blobby neon seating that colonises most interstitial areas), the Moody is Maltzan's first brick building – a project requirement for material continuity across campus. He chose Manganese Ironspot brick for its chameleon-like qualities.
Depending upon the weather and time of the day, the dark exterior can take on a blueish glow, a silvery gleam, or a deep purple haze. 'It changes your perception of traditional brick, and the way it's been made – its thinness and lightness, as opposed to heavy, massive brick – relates to the variability of life around it,' explains Maltzan. 'I think that idea, of a building that is not heavy and not weighted down, but that is light and variable and dynamic, is for me the main metaphor of what is meant to happen at the Moody Center.'

The ambitious opening programming includes a workshop developed by Olafur Eliasson and a mesmerising extraterrestrial video installation by Diana Thater, as well as a residency by visiting artist Mona Hatoum. The Moody's main gallery space debuts with an exhibition of 25 photographs by Thomas Struth, including a massive 2007 image of an oil rig at the DSME shipyard on South Korea's Geoje Island. Restrained by a web of tethers that slice the composition into extruded triangles, the semi-submersible drilling rig comes alive.

'Before I saw this, I never thought that I would want to photograph an oil rig,' admitted Struth, who was on hand for the opening festivities. 'But in this situation it was like Gulliver — the giant in chains — and you somehow get a much better understanding of what kind of energy is embedded in this structure.' The scene, with its pulsing readiness and celebration of complexity, feels right at home in the Moody. '"Institution" doesn't seem to be the right word for it,' notes Struth, glancing around the sky-lit, double-height gallery. 'It's a centre – a centre of crossings.'
INFORMATION
For more information, visit the Moody Center for the Arts website and the Michael Maltzan Architecture website (opens in new tab)
ADDRESS
Moody Center for the Arts
Rice University
6100 Main Street
Houston, TX 77005