Maori culture and modern art come together at the Len Lye Centre by Pattersons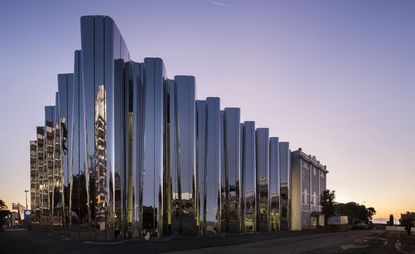 (Image credit: TBC)
The recently inaugurated Len Lye Centre is not just a gleaming new landmark for New Zealand's seaside city of New Plymouth; even though its shimmering mirror-effect steel facades ensure it states its presence with panache. The new project, designed by architects Pattersons, is also the country's very first museum dedicated to a single artist - pioneering Christchurch-born filmmaker and kinetic sculptor Len Lye.

Planned to coexist structurally with the adjacent Govett Brewster Art gallery, the new museum had to create a dialogue with its neighbour, but at same time adopt a distinct identity. The two buildings are linked internally and the circulation route is designed to allow visitors to experience and appreciate both.

Len Lye's philosophy that 'great architecture goes 50/50 with great art' provided key inspiration for Pattersons. By creating a dynamic, shiny and sinuous façade that brings to mind a moving theatre curtain, the architects hint at Lye's kinetic art. The facades' curves manipulate natural light to create a range of reflections, depending on the day and the season. At the same time, the skin - polished steel - ties the building with its locale, as it celebrates the pioneering steel works in the country's Taranaki region.

Inside the gallery, daylight penetrates the façade through gaps on the external walls, creating an almost ethereal atmosphere. For the internal arrangement, Pattersons drew inspiration from the Maori 'meeting house' - the focal point of the traditional Maori community. At the same time, they loosely based the layout on a traditional temple, at the same time telling the story of the legendary Len Lye and his iconic body of work. The 'adyton,' the most sacred and private part of a temple (usually located far away from the entrance) is used in the museum to house Len Lye's archive.

By adopting a temple-like internal arrangement for the museum's programme, the architects created yet another tie-in with the artist's approach. 'Lye was fascinated with temples and the design uses principles from the classical world as well as Polynesian forms and ideas", says design director Andrew Patterson. "These influenced Lye's work and after all, he was the client." Looking at the building's outline from above, it creates a 'koru' form (a Maori spiral shape) - one more reference to the rich local Polynesian culture.