London Feeds Itself: we are hungry for Open City's book on food and architecture
London Feeds Itself, a new book by Open City, is a scrumptious offering that connects food culture and architecture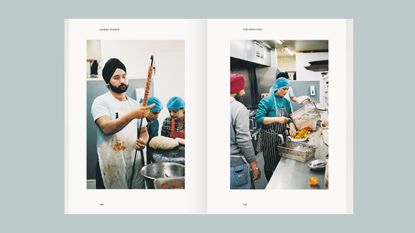 (Image credit: TBC)
London's emergence as a global foodie hub is near miraculous. The city was once considered a gastro black spot, the butt of sniffy jokes about soggy chips and sinking pie crusts. After a three-decade turnaround, swishy new dining rooms with credentialed chefs open every week, the streets of Mayfair are littered with Michelin stars and everywhere there is experimental fusion, three-hour tasting menus and pub grub refined beyond recognition. London has, though, a kind of shadow, slow-cooked and more quotidian food culture. More low-key and affordable but just as inventive, this is a constantly shifting vernacular, the riches of the city's remarkable human diversity. This food culture is mapped and celebrated in London Feeds Itself, an architecture book published to mark the 30th anniversary of the city's Open House Festival this September, an event that has now been significantly scaled back following the death of the Queen.
London Feeds Itself is edited by Jonathan Nunn, the 33-year-old founder of the online magazine and weekly newsletter Vittles. Nunn's newsletter and Instagram feed track his intake at food stalls and unassuming takeaways, at Algerian bakeries and Syrian cafés in the near suburbs (and the occasional ham, egg and crisp baguette). Soho and Mayfair are left largely untouched, but Nunn has become a trusted guide for young Londoners looking to get at the real marrow of their city.
No mere influencer, Nunn is a fine and sharp writer and he has argued that too much London food writing has the whiff of Victorian adventure and exploration, a kind of localised neo-colonialism (if not outright racism) with no effort made to frame food culture within the context of migration, displacement and gentrification. The book gives Nunn the chance to address those failings and he does it powerfully.
Published by Open City, the architecture education organisation behind Open House, London Feeds Itself connects the city's vernacular food culture not just to its people but its architecture. Nunn pulls together 25 essays about 25 buildings, places and public amenities, warehouses, parks, church halls, mosques, community centres, baths and allotments, with contributions from food writers, architecture writers and activists, including former Labour Party leader Jeremy Corbyn and broadcaster Aditya Chakrabortty, as well as 125 'capsule' restaurant reviews.
Nunn is a fan of architecture writers Owen Hatherley, another London Feeds Itself contributor, and the late Ian Nairn; Nunn borrows Nairn's line about the need for day-to-day 'quiet humanity' in our environment. Even if much of the food Nunn celebrates is street food and take-away, place, rather than space, is central to his idea of a food culture of quiet humanity.
Unsurprisingly, Nunn also rails against the homogeneity of much of London's more smartly packaged street food stalls and markets, increasingly weaponised by property developers, and laments the rise of a London 'where working-class markets are shut, replaced with cookie-cutter street food placed on pseudo-public property; where food production is being shunted to its peripheries or out of the city altogether; where community centres are shutting and food banks are rising; where new restaurants open just to be a notch on the landlord's bedpost.' With Vittles and now London Feeds Itself, Nunn is rallying the resistance, roti in hand.
INFORMATION
Receive our daily digest of inspiration, escapism and design stories from around the world direct to your inbox