An insightful new guide to Britain's best modern buildings
A new book, Modern Buildings in Britain: A Gazetteer by Owen Hatherley, is an architectural travelogue embracing remarkable modernist structures, with photography and an accompanying exhibition by Chris Matthews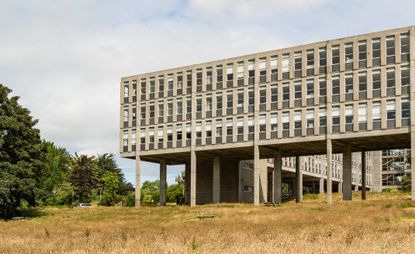 (Image credit: Chris Matthews)
Owen Hatherley – author of a new book on Britain's modern buildings – is an architectural journalist with an agenda. Throughout a series of memoirs and travelogues spanning the UK and Europe, Hatherley has proved to be one of the most perceptive and insightful chroniclers of the modernist era.
His urban perambulations are in the great tradition of some of the best writers on architecture and design, from Nikolaus Pevsner through to Ian Nairn, Jonathan Meades, and Reyner Banham. Like these critics and historians, Hatherley is adept at eking out some additional fact or stylistic note, while never being afraid of pronouncing an unpopular opinion.
Modern Buildings in Britain: A Gazetteer by Owen Hatherley
Clifton Cathedral, Percy Thomas Partnership, 1965-1972. Says the book's: 'Most of it was pretty inaccessible when I visited, which at first was quite disappointing but of course understandable with Covid. Some helpful staff guided me to the gallery above the ground floor where there was a good view to be had. The strong geometric concrete structures contrasted with the taped-off seats, making this brutalist building feel even more imposing and mysterious.'
His latest book, Modern Buildings in Britain: A Gazetteer, is a travelogue for the sofa, not something to be crammed into an overcoat pocket. Commissioned to write a guide to the country's most remarkable modern buildings, Hatherley found himself seeking out the lesser-known and quotidian.
These overlooked examples of modern architecture are lined up alongside their better-known peers, the poster-children (quite literally) for the brutalist revival that often has Hatherley despairing.
Coleg Harlech, Colwyn Foulkes and Partners, 1970-73. Photographer Chris Matthews: 'Owen describes the place as "heartbreaking" and having visited to take photos, I can only agree. The tower block is fenced-off and left to rot, but this somehow adds to how powerful it appears in Harlech. It also feels a part of the landscape, the design is not alien to this very historic place; it's all very intriguing.'
Over 600 pages, our author and guide present us with a very personal selection, seeking out the diamonds in the rough and finding just the right pithy observations to praise the unusual, while damning the neglect, philistinism, and opposition that often comes with the territory.
The book is accompanied by a new exhibition by Chris Matthews, the photographer who provides the images found throughout Hatherley's book, and whose thoughts on the commission are shown here.
Central Library, Grimsby, Borough Architect J.M Milner, 1966-68. Photographer Chris Matthews: 'It's a challenge getting to Grimsby. Even if you live not too far away in Nottingham – as I do – it's easier to get to Bristol or Manchester, especially by train. But the library is worth it, even if half the building was closed thanks to austerity cuts. It's so conducive to reading, contemplative thought and civic sensibility; things we have neglected. This wide-angle shot captures the surrounding streetscape, which shows how eerily empty towns can be, but also the integrity of the original modernist vision for this location.'
The exhibition, 'Wide Angle: Modernist Buildings in Britain', shows Matthews' aesthetic pilgrimage (undertaken during the pandemic) to the buildings selected by Hatherley. The image seen at the top of this article shows Truro's County Hall, designed in 1963-66 by FK Hicklin. Hatherley praises its 'rare rigour and power', noting that it avoided the initial brutalist architecture backlash by being detached from the city's historic town centre.
For Matthews, the experience was slightly different. 'I think there was only me, the receptionist and a security guard there – everyone working from home during that first lockdown,' Matthews recalls. 'But the building was so much fun to photograph, every elevation different in its own way but also very coherent and quite dramatic as it rises above the hillside.'
Burdock Way, Halifax, 1970-1973. Photographer Chris Matthews: 'Walking around Halifax was hard work; a lot of steep hills, busy roads, blisters and petrol fumes. Despite these challenges, this place rewards you with brilliant views and creative ways of looking. You could spend a long time photographing Burdock Way. It strides and curves over a steep valley and almost swallows up the older Victorian bridge. But despite such feats of engineering there's the sense that it's not really appreciated at ground level, which is just a sea of car parking.'
Modern Buildings in Britain takes us right up to the present day. Although Hatherley is right to decry the fetishisation of the concrete aesthetic (and the near-total absence of any debate surrounding the often generous spatial qualities of the modernist era's housing, in particular), it's clear that architectural hindsight is only a clear lens if the right person is doing the looking.
South Bank Coke Oven Tower, Middlesbrough, Simon Carves Otto, 1956-57. Photographer Chris Matthews: 'It was one of my first big trips after that first lockdown, so everything was still very uncertain and a lot of things remained closed. It was mid-summer so it looked like a handsome jolly green giant surrounded by wildflowers and shredded plastic, which was coming from a nearby recycling factory. I felt numb when it was demolished, I wasn't surprised. I think it was a pretty dumb thing to do, rather than anything creative or dynamic.'
INFORMATION
'Wide Angle: Modernist Buildings in Britain, Photographs by Chris Matthews' runs until 8 May 2022 at Gareth Gardner Gallery, 50 Resolution Way, London SE8 3HZ, garethgardner.com
Modern Buildings in Britain: A Gazetteer, by Owen Hatherley, published by Particular Books, £60, penguin.co.uk

Receive our daily digest of inspiration, escapism and design stories from around the world direct to your inbox
Jonathan Bell has written for Wallpaper* magazine since 1999, covering everything from architecture and transport design to books, tech and graphic design. He is now the magazine's Transport and Technology Editor. Jonathan has written and edited 15 books, including Concept Car Design, 21st Century House, and The New Modern House. He is also the host of Wallpaper's first podcast.
With contributions from