Like brother, like sister: two siblings design two new Los Angeles homes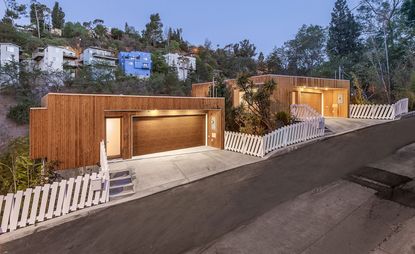 (Image credit: press)
Anonymous Architects are no strangers to outwitting building rules and regulations - take for example their upside down Car Park House in LA, where residents drive straight onto the roof, eliminating the need for a garage or an unsightly parking space. But their most recent project, the Brother and Sister House, may be their most intelligent design yet.

Architect Simon Storey collaborated with his sister Anna Gregory to design the aptly named Brother and Sister houses, located in the hills of Los Angeles. The two almost identical houses are built on adjacent plots and separated by a quirky take on the white picket fence.

This project embodies Anonymous' signature simple yet thoughtful design. The complex's modest cedar cladding eschews any extravagance and allows the buildings to interact sensitively with their tree-filled site. The two volumes are cantilevered on concrete blocks, lightly floating above the ground, thus preserving much-coveted garden space beneath the houses.
Take an interactive tour of Brother & Sister House
The main challenge facing the architects was the small size of the plots, measuring roughly 200 square metres each. 'Often building code limitations are so great there is little to no freedom to control the footprint of the building', explains Storey. Here however, in true Anonymous style, the team worked its way around this restriction.

The two designs started off as two simple box shapes. By punching large windows out of each main volume's thick walls, the architects increased the houses' internal space by 10%, transforming them into pieces of furniture the owners can use. Protruding bay windows reach out and embrace the landscape, allowing residents to feel part of their surroundings. Similarly, a rectangular shape cut out of each box creates a sheltered outdoor living area, useable come rain or shine.

Inside, wood remains the star of the show. Storey explains that 'the main goal for the design was to make a small building feel large', and by using the same white oak for the floors, cabinets and doors, the architects create the illusion of a much larger space. The rough concrete walls in the bedroom bring the outside in, drawing on the external concrete pillars whilst adding to interior's natural, tactile feel. The beauty of these houses comes not from superfluous, space-consuming ornamentation but instead from the simplicity of necessity.

The houses are entered via the top floor and a narrow entrance corridor that leads into one light-filled living-cum-dining space. The architects wanted to 'allow as much natural light as possible to penetrate the house' and this is witnessed downstairs, where light passes through the bathroom and floods into the hallway, making this often-enclosed space feel bright and roomy. Two bedrooms off this hallway offer a cosier, more private space for the owners - who can still remain connected to the surroundings via the large openings that frame the trees.
Receive our daily digest of inspiration, escapism and design stories from around the world direct to your inbox