Letter from the Netherlands 2014: we chart the nation's new architecture projects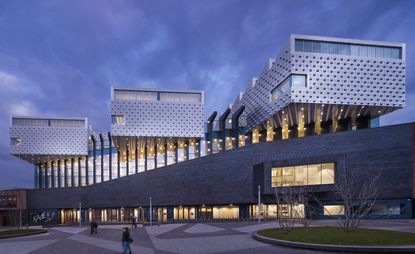 (Image credit: TBC)
When architectural historian Bart Lootsma coined the term Superdutch in 2000 he was highlighting a common thread among the work of 1990s Dutch architects, who achieved great global success and influence through simple yet expressive forms that didn't sacrifice their native spirit of realism.
It was a time when architecture was recognised as a worthy investment, when private individuals could easily secure a mortgage, the national government stimulated and directed the Dutch housing supply, and funds for creating good public spaces were generous. Famous Dutch firms such as OMA, Mecanoo, Wiel Arets and Neutelings Riedijk accelerated their ascent at a time when bold ideas that were not only heard, but also realised.
See the architecture projects reshaping the Netherlands
Hefty cutbacks in municipal budgets since then have made life for architecture firms much more difficult. Culture is no longer a major point on the national agenda and even the Dutch Ministry of Housing, Spatial Planning and the Environment dissolved into that of Infrastructure and the Environment. Architectural commissions now tend to be a cost-reducing exercise, while multi-tenanted buildings developed by investors lose their popularity over client-specific offices with a clear corporate identity.
Yet change is underway. In the past year, key new commercial and cultural buildings, such as the Cultural Centre in Amersfoort by Neutelings Riedjik and the G-Star RAW offices by OMA, have been making an appearence all over the country. Infrastructure work, such as the Highway Support Centre in Assen by 24H Architecture is another prime example of the country's recent architectural activity.
Rotterdam, specifically, has been stealing the Dutch architectural spotlight. De Rotterdam's dramatic OMA-designed volume is now the country's largest multi-purpose building; the city station's grand renovation is finally complete; ZUS have finished works on their one-of-a-kind Luchtsingel pedestrian bridge; and MVRDV's massive new Market Hall for the city is due to open soon (watch this space).
It may appear that the 1990s heyday is over, but this new generation of cultural, public and commercial icons shows that the willpower of Dutch architects to beautify their built environment is still omnipresent.