Great danes: Denmark's new architecture has bite
At the forefront of modern architecture, Denmark is striking a balance between humanism and sky-high experimentation. From a Panda pen designed by BIG, to Dorte Mandrup's skyscraper proposal that will soar past the Shard; from a rooftop ski-slope, to a plan for a series of islets inaccessible to humans...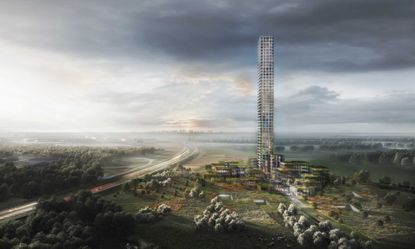 (Image credit: press)
Wallpaper* Newsletter
Receive our daily digest of inspiration, escapism and design stories from around the world direct to your inbox
Thank you for signing up to Wallpaper. You will receive a verification email shortly.
There was a problem. Please refresh the page and try again.
Denmark is internationally renowned for its thoughtful architecture and urban planning, which places an emphasis on structures and spaces that give more than they take; a process that involves thinking about the city, as well as its inhabitants' needs. This ideal is strongly supported by the government's current Danish Architectural Policy, which encourages placing people first by 'shaping society into a form that is characterised by humanism'. Its guidelines also stress the importance of progression and experimentation in the built environment.

As well as having a particularly human-centric and environmentally sensitive approach, this Nordic country is a long established world leader in design and architecture innovation with powerhouses from Arne Jacobson, right up to today's Bjarke Ingels and Dorte Mandrup – the list can go on and on – playing a key part in Denmark's architectural identity.
Often operating internationally, these influential architects have changed the skylines of cities around the globe. It's easy to assume that their home country is chock full of astounding architectural feats, and it is. Famed projects from the Copenhagen Opera House designed by Henning Larsen to the Blue Planet aquarium by 3XN, Denmark is no stranger to dramatic structures.

But what current and planned projects do the Danes have up their sleeves? In line with the Danish design tradition that encourages architects to be experimental and willing to step outside of their comfort architecture zone to investigate new ideas, the future of architecture in Denmark is full of designs that push the boundaries in different ways. Take a look for yourselves...
Tower & Village, Brande, by Dorte Mandrup Architects
Set to become clothing brand Bestseller's headquarters in Brande, this new complex includes the construction of Western Europe's tallest skyscraper, topping out at 320m. The project isn't all about knocking the Shard off its pedestal; the plan is to re-think the idea of an HQ by incorporating the local community into the design, including offices, stores, educational institutions, a hotel, and a playground.
BLOX, Copenhagen, by OMA
Home of the Danish Architecture Center (DAC), BLOX opened in 2018. But OMA had greater ambitions than to simply produce a space to host their client – they wanted to create an entire city in a box, and they did just that. In line with DAC's vision and architectural philosophy, BLOX contains a dizzying amount of functions including exhibition spaces, offices and co-working spaces, a café, a bookstore, a fitness center, a restaurant, 22 apartments, and an underground automated public car park.

See more of OMA's upcoming projects here
Amager Resource Centre, Copenhagen, by BIG
Amager Bakke (a.k.a. Copenhill) is located in an industrial area of Copenhagen that in the past few years has been drawing a crowd of extreme sports enthusiasts. Adding to the destination, BIG has created a ski slope on the roof of a waste-to-energy factory. The factory is one of the most prominent buildings in the area but was in dire need of a refresh to align with modern standards, the evolving neighbourhood, as well as the company's brand message.

See more of BIG's upcoming projects here
Fjordenhus, Vejle, by Olafur Eliasson
When Eliasson began working on Fjordenhus, which completed in 2018, he had a radical vision for his project – that a growing city doesn't necessarily require land. He placed his structure on the water. Creating a compelling and immediate connection to the elements, the 97,000 sq ft castle-like building is anchored to the natural world. Users and visitors can experience wind, waves and water within its brick, curved towers.

See more of the Fjordenhus here
Red Cross Volunteer House, Copenhagen, by COBE
As an extension to the Danish Red Cross HQ, the Volunteer House is designed with the ambition to invite people in, and encourage passersby to enter and explore. A remarkable roof structure gives the project a distinctive architectural identity, making it a stand-out urban addition that both relates to and redefines its surroundings.
The Wave, Vejle, by Henning Larsen
Denmark is mostly spread across a dramatically flat landscape, inspiring Henning Larsen to take his cues from the few rolling hills of Vejle in The Wave. The structure has five dramatic peaks, created through a roofscape that rises and falls like a crashing wave. Whether seen from rail, road or sea, the waterfront apartment building is equally visually striking; but its design was also focused on creating a high quality environment for its residents.
Panda House, Copenhagen, by BIG
BIG's Panda House adds energy and excitement to an animal enclosure – no surprise there. The architecture hosts some very famous residents (that Denmark is renting from China for $1 million annually) in a clever design shaped like the well-known yin and yang symbol. Visitors can view the pandas from above or on ground level through 360-degree tilting walkways. There's even a restaurant, where guests can dine in close proximity to the beautiful creatures.
Tingbjerg Library and Culture House, Copenhagen, by COBE
The materials used for this prize-winning structure were carefully chosen to reflect and respect the area's historic architecture by iconic Danish architect Steen Eiler Rasmussen. The four-storey, funnel-shaped design, seen from above, slopes down toward the school it complements to connect the two structures. The project's transparent façade is the most dramatic aspect of the design. The structure is purposely street-facing, allowing all passersby the ability to see what's happening inside.
Waterfront Climatorium, Lemvig, by 3XN
3XN won a competition to design a structure in Lemvig, to not only tell the area's cultural history, but also create an information and resource centre for climate change. The curving entrance is designed to communicate this intention through its organic shape and by using light-coloured wood inspired by the surrounding area. Scheduled to complete in 2020, the seemingly simple two-storey design is carefully placed and structured to respect existing buildings; this, and its use of materials help create a truly signature building.
Holmene, Hvidovre, by Urban Power
Planned to break ground in 2020 and complete in 2040, this scheme by Urban Power is set to involve the largest land reclamation project in Scandinavia. The ambitious design will consist of nine industrial 'islands'; each surrounded by a nature belt ranging from active areas for sports, to more tranquil parts for recreation. The scheme, which will be used for both leisure and industry, also involves several small islets and reefs inaccessible to humans. These will provide the best conditions for nature and wildlife to thrive, on land, as well as in the water.
Receive our daily digest of inspiration, escapism and design stories from around the world direct to your inbox