We visit John Pawson and Ian Schrager's latest collaboration in West Hollywood
Designed by John Pawson, the Edition Hotels and Ian Schrager's latest offering, The Residences at the West Hollywood Edition, bring together Los Angeles lifestyle and contemporary design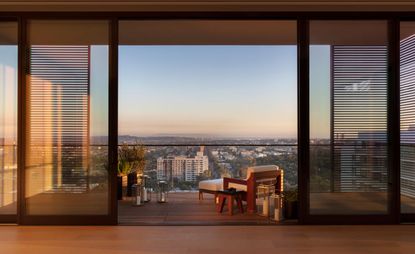 (Image credit: Dbox)
Sunset Boulevard in West Hollywood has been undergoing a hotel and construction boom over the past few years but none was more anticipated than this partnership with hotelier Ian Schrager and the architecture studio of John Pawson. While the site holds a full-service hotel, real estate developers Witkoff and New Valley round out the latest dream team collaboration by allowing for residency in this fabled area right on the famous strip.

'Finding the West Hollywood site in Ed Ruscha's photographic artwork, every building on the Sunset Strip, provided a memorable moment early on', said Pawson. 'A phrase Ian used over and over when he was talking about the brief was 'gritty sophistication.' In the way they combine the raw and the refined, the repeating screens and natural textures that are such a feature of the West Hollywood design capture the contradictory energies that Ian identified as such a defining aspect of The Sunset Strip.'

To that end, the private residential lobby connects to the main hotel and a mobile art piece by Sterling Ruby that incorporates elements from previous incarnations of the site - an oil drum and frying pan represent the former gas station and Scandia restaurant where Frank Sinatra frequented back in the day.

While residential perks and amenities include a full-time concierge and a pool, the 190-room hotel (in a partnership with Marriott International) also holds a signature restaurant, basement club, and a second rooftop pool, plus meeting rooms, spa and fitness center, but you may not want to leave your personal home.

The twenty luxury residences encompass expansive views of the hills and city skyline that showcase a perfect balance of indoor and outdoor living. Pawson brings the outside in with custom automated sliding glass walls that open to sprawling private terraces. Other polished design elements include white oiled oak flooring, Molteni kitchens with custom teak millwork, a freestanding 1,200-pound concrete bathtub in the master bathroom and custom lighting throughout.
Pawson adds: 'Another highpoint for me is the sense of calm you get on arrival in the garden, so close to the hectic life of The Sunset Strip.'

Pawson also used travertine, flamed cedar and the bronze-colored screens as the key exterior elements. 'The travertine we used in West Hollywood was sourced from the Tivoli quarries in central Italy. When test sections of the unfilled stone were produced, the result was such a beautiful quality of porosity we decided not to fill the stone joints either.'

Within The Residences, high ceilings and oversized walls create an opportunity to customize your art collection through a partnership with The Residence Art Concierge Program by Creative Art Partners. With access to more than 15,000 unique and highly desired works, there is an option to purchase or lease a personal collection that can be installed permanently or seasonally.

'I think that with all longstanding collaborations, there is always a sense of anticipation in what new possibilities a new site and location will bring. Because Ian and I understand each other so well – we are so comfortable with the shared creative process – there is scope really to push things,' said Pawson.

Schrager says: 'I want this project to be great so I have a little more intensity about it. I might be a little more demanding than he is sometimes and I'm always pushing. I have a genuinely deep affection for John and I respect him and what he does. I went to him and said, I don't want a minimalist space. I want something simple, and refined, and sophisticated but I don't want anything that fits into any kind of category. It's the perfect working relationship because we like each other and we respect each other. You can't ask for more than that.'
INFORMATION
johnpawson.com (opens in new tab)