Kyoto's landmark Kyocera Museum unveils its contemporary renovation
One of Japan's key cultural landmarks, the Kyoto City Kyocera Museum of Art, originally built in the 1930s in the Imperial Crown Style architecture known as teikan, is preparing to reopen to the public following a contemporary, yet respectful renovation by architects Jun Aoki and Tezzo Nishizawa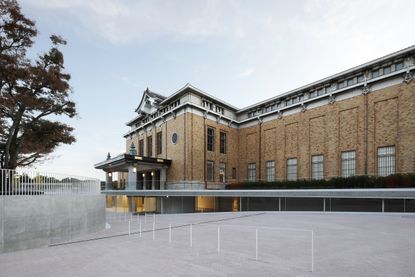 (Image credit: Takeru Koroda)
As one of Japan's oldest public museums, its elegant façade, neoclassical symmetry and curved tile rooftop have been celebrated as a Kyoto landmark for more than eight decades. Now, Kyoto City Kyocera Museum of Art – formerly known as Kyoto Municipal Museum of Art – will soon begin a new chapter, with the completion of a three-year renovation by Japanese architects Jun Aoki and Tezzo Nishizawa.

The update has added a fresh, modern and minimalist edge to the original 1933 building, designed by architect Kenjiro Maeda and a classic example of Imperial Crown Style architecture known as teikan.

'Taking over the designing style and manner of the original architecture doesn't mean just repeating the original design adopted over 80 years ago,' Aoki, also the museum's new director, says. 'It means carefully observing the 'grammar' of the original architecture and utilising this 'grammar' to design what is required at present. As a consequence, we could create a new architectural space where visitors can barely tell which parts were renovated.'

Inside, the building's original materials still shine, with expanses of rich marbling, original floor tiling and sweeping stone staircases, in shades of apricots, forest greens and creams. Yet contemporary touches create a lighter, more open feel throughout the museum, home to a 3,600-strong collection of Kyoto artworks, from Japanese-style Nihonga paintings to calligraphy.
Standout features include a minimal glass 'ribbon', clear and transparent, which flows along the façade beneath the original entrance, creating a new light-flooded entry point at the base the building.

The Central Hall, formerly the main exhibition space, has been transformed into an airy white hub connecting three levels of galleries, with its heritage balanced by a light, minimal touch – as seen in the high white ceiling, oak parquet floor and elegant curves of a spiral staircase.

A bolder addition is the Higashiyama Cube, a new wing for contemporary art overlooking its Japanese Garden, with a roof terrace and clean-cut façade of pre-cast concrete panels, with minimal vertical motifs of champagne gold (plus an inaugural exhibition by Hiroshi Sugimoto, whose Glass Tea House Mondrian floats on the nearby pond).

Other touches include the clear walls of The Triangle, dedicated to emerging artists; new shop Art Lab Kyoto selling a sleek medley of art books and Kyoto gifts (plus minimal white museum goods by Beams Creative Laboratory); and cafe Enfuse, serving up craft coffee and meals with seasonal local ingredients.

'Kyoto is not a city that conserves old things just as they are,' adds Aoki. 'Kyoto is a city where old things are constantly given a new perspective as time progresses. This means things are constantly added and revised, creating multiple layers. I would be very grateful if the new dimension we've added to this museum forms another new layer for the city.'
INFORMATION
aokijun.com (opens in new tab); tezzonishizawa.com (opens in new tab)