Retrospective explores Jonathan Tuckey's sensitive touch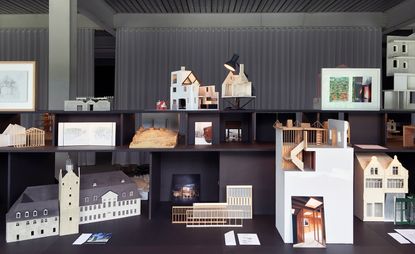 (Image credit: TBC)
'How much can you change something?' That is the question designer Jonathan Tuckey grapples with every time his multidisciplinary firm approaches a new architectural venture that requires a modern intervention to a historical setting. Drawing on this experience and showcasing his impressive body of work, Tuckey has just launched 'Building on the Built', a retrospective exhibition on the firm's growing portfolio.

Known for his context-sensitive touch, Tuckey is widely acclaimed for his knack for breathing new life to old, tired or historically sensitive properties. The exhibition, which was inspired by Joseph Gandy's painting '1818 Public and Private Buildings Executed by Sir John Soane', covers a wide array of the practice's projects through their models, regardless of scale or status.

Calling on the contrasting philosophies of Eugène Viollet-le-Duc and John Ruskin, Tuckey approaches each renovation by applying a combination of their ideologies to his work. Viollet-le-Duc, believed that restoration should simply – and exclusively – be a delicate reconstruction of the building's original features. Meanwhile, Ruskin's position was that modern intervention is pivotal, when working on an existing structure. Tuckey's work balances the two, exploring the limits of when one should start and the other begin.

''Building on the Built' features projects such as ongoing renovation of a Victorian primary school in Westminster; the interior architecture of the neighbouring Gasholders development, which overlooks the exhibition's central Kings Cross location; and Shadow House, the transformation of a Grade II listed chapel into a contemporary family home.

A series of breakfast talks and evening lectures, exploring the challenges and opportunities the practice encounters, will offer special insight into how it tackles a regenerative project.

The exhibition narrative showcases Tuckey's eye for detail and ability to envision and introduce new architectural elements to existing structures, while paying due respect to history and the surrounding urban context.
INFORMATION
'Building on the Built' will run until May 18. For more information visit the exhibition's website (opens in new tab)
ADDRESS
6-8 Stable Street
London
N1C 4AB
VIEW GOOGLE MAPS (opens in new tab)