John Portman's Entelechy II is a complex map of a long and fruitful life
Remembering John Portman (1924 – 2017), we return to his Sea Island house, Entelechy II, that we visited in 2009 (W*129). Portman was engaged in a search for his entelechy – the Aristotelian concept of 'having one's end within', or realising one's potential – and designing, building and inhabiting his own home was the only way to keep this philosophical thread consistent and alive.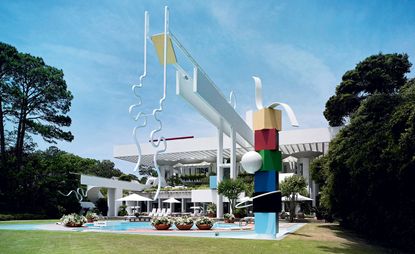 (Image credit: Thomas Ibsen)
No matter how hard you might want to try, it is very difficult to stray off course at John Portman's Sea Island house. The architect and developer (1924 – 2017) who was based in Atlanta, designed this summer getaway – its basic post-and-lintel construction an update of his early 1960s Atlanta home – as a study in course-correction and control and in autobiography and narrative. It's impossible to get off course and almost inevitable you will get lost.

Portman himself was a study of extremes. A self-described Emersonian – 'philosophy is my avocation', he said one afternoon in his central Atlanta office (filled with his sculptures, his office wall detailed with a gigantic, almost Pollock-ish painting he produced) – and, it is said, the inspiration for Tom Wolfe's central character in the bombast-and-power novel A Man in Full. He embodied an elusive combination of massive and disciplined power and the desire for contemplative self-reflection.
As a developer, Portman built enough of Atlanta that he could look out of his office window and point to his Hyatt Regency (1967) across the street by way of illustrating an argument, direct the way a visitor should experience the Marriott Marquis (1985), his extravagant atrium hotel that is as well suited to a convention of 2,500 twelve-steppers as it is to a lone writer on the hunt for meaning, and be the force, too, behind the AmericasMart (1960), a fantastical atrium building that houses the largest of wholesale marketplaces. The office is also close to Portman's Peachtree Center (1976) and the SunTrust Plaza (1993).

But we're here to talk about, in between Emerson and Whitman, Entelechy II. Portman's second house for himself and his family – after the early 1960s Entelechy I – Entelechy II was finished in 1986 on Sea Island, an exclusively ritzy, gated Barrier Island off the Georgia coast, a six-hour from central Atlanta.

Portman was aware that some architects do not want to design their own houses – for reasons ranging from not wanting to live in a physical expression of their everyday mental world, to the simple fact that clients (including themselves) are difficult. But he was engaged in a search for his entelechy – the Aristotelian concept of 'having one's end within', or realising one's potential – and designing, building and inhabiting his own home was the only way to keep this philosophical thread consistent and alive.
The combination of Aristotelian underlay with Emersonian action is what makes the house work. 'There will never be another you, and there will never be another me,' Portman said, explaining his search for the internal core of humanity, and the house's drive to articulate that architecturally. 'The trick is to try to understand the essence of what you are.'

This devotion to his own uniqueness, to what Portman describes as the miracle of identity and existence, is what allows him to come up with and construct projects like the atrium hotel, which he made famous with the Hyatt Regency, very famous with the Marriott Marquis, and legendary through the photographs of Andreas Gursky, who immortalised the New York Marriott Marquis atrium hotel in Times Square, New York, 1997. 'How do you understand yourself?' He asked.

Entelechy II is Portman's way of articulating an answer, but it isn't simple. The house is a whirlwind of architectural activity, bounded on the bottom by the ground and on the top by a laid-on grid that would make even Rosalind Krauss happy. In between are three rows of six columns, exploded as though a pole has been driven into the centre of each, pushing the sides outwards. Some of the columns are empty, detailed simply with the green – and only green – plants that take over the building, while others are filled with a winding staircase or, in one case, an elevator. They are all central to the design, the exploded column being Portman's way of 'understanding the essence of the column', an experiment and search he had begun in Entelechy I, itself a search for the very essence of architecture. Thinking about his first house, Portman had wondered when architecture itself started. 'Architecture started when they raised the first column and then they raised the next one,' he said. 'So the column was key.'
Those first Entelechy I columns were Portman's initial run at turning what is typically only a structural or decorative element into a circulation space, a library, a gallery, a closet, or a study. The second stage is the house at Sea Island. 'I always try to understand the evolution of the essence,' Portman said of that jump, and then, as if realising that this could sound a little philosophy-lite, a little wishy-washy, a little bit as though it gives this architect – who already lived with an enormous amount of license to do whatever he wanted – even more licence, he added that it is not arbitrary. 'I hate arbitrariness; I cannot handle that.'
For this project, then, the driving design point was the idea of a man at the beach. Portman thought about this property, looking out over the Atlantic, tucked away off the main barely-a-road of this sheltered community, and thought about what someone would do there. 'What comes to mind is the umbrellas sitting in the sand, and a blanket and a human being is lying there reading a book,' he said. The Kraussian grid is the interpretation of an umbrella, the house that person, and the blanket the ground.

The boundaries are relatively easy. It is the stuff that is representing the human that gets complicated. It's not so difficult to create a literal and architectural umbrella, nor to give a house a sense of foundation. What is difficult, and where the house succeeds, is in its expression of the centrifugal forces of human autobiography. The house produces an architecture of the moment, rather than of connectivity, of discrete experiences that mirror the discreteness of the experience of life, of the separation of moments that we connect and then make coherent through various tellings and re-tellings. It is a collection of design decisions tied together by symmetry, colour and neutrality, and what remains is as elusive as a definitive autobiography.
Self-narrative constantly changes. So does the experience of Entelechy II. Every door feels like a side door or back door, every hallway like it is just off the central axis, every room like it is at once central and peripheral. At every moment there is an overwhelming controlling symmetry that becomes a physical manifestation of the ways we tell stories with rhythm and meaning. Stories about how people met invariably focus on some improbable detail; so do stories about how they kept missing each other. Life is such a random collection of unrelated events that we, in our drive to understand its activity through narrative, create stories, linking point A to point B, and then point A to point C, and, sometimes, point A just to itself. Portman's house embraces both the fact of narrative dispersion and the desire for meaning.

Pragmatically, this is expressed most clearly in a central beam that runs from the front to the back of the house – if this is a house that can be said to have a front and back. Appearing like a gigantic diving board with symmetrical planes folded out on each side, the central plank curlicues down on the ocean side of the house almost to meet the swimming pool, itself a perfectly articulated piece of circularity and momentum.

Axes are everywhere. A line of stepping stones – placed just close enough together to make a natural gait impossible – leads to a walkway that runs parallel to the house's moat and art galleries, filled with Portman's labelled sculptures. A sharp turn left leads to a side door, which opens up into a hallway that leads to an open kitchen. The kitchen's far wall, past the breakfast area, is split by a cut-out that frames the downstairs reading room across the indoor reflecting pool. Pass the kitchen and take a sharp turn right, and the axis becomes the central dining room, itself a circular space lined with a square of a banquette, centred around a square table with a circular chandelier above, and another square opening in the ceiling – just to round it all out.
Everything throughout the house is layered in this way – circles on square on circles on square – and everything course-corrects back to a view over the ocean and a controller experience of the house. Walkways throughout the house connect everything to everything else, but it can be difficult to see how to get from here to there. It's easy to hear people's voices and to be able to see them, but it takes a second of mental mapping to figure out that the best way to get there is to walk up a particular column of stairs, wind around, stretch up the long walkway, and then spiral up again to the top-most observation tower. From up there, the entire grid, punctuated by sculptural fireplace elements that bring a burst of colour to the bright white flatness, rolls itself out.

It's a perfect way of encapsulating a life, of rigidly connecting all the dots that make up the varieties of educational experience, and Portman was fully aware of the fact that this might be the last house he buildt for himself. 'I think part of being human is that we can't conceive of the end,' he said. 'Of course, you can't avoid the end.'

Entelechy II isn't an attempt at avoiding the end, but it is a way of encapsulating a life so as to have a definitive market on what it was like. 'I wasn't aware, when I was born, of everything that had happened behind me,' Portman said, echoing the beginning of Nabokov's Speak, Memory, in which the novelist is utterly distraught to see pictures of his parents before he was born, a clear indicator of a world that existed without him. 'Now I've been exposed to all this, and now I've got another door.'

This isn't a morbid death-reflection. This is, rather, Portman's way of inserting himself into the circularity of nature. 'It's all about renewal,' he said. 'And if you acknowledge infinity, then there's no end and no beginning.' Portman jumped from Emerson to Kant, and to the philosopher's argument that all reality is mind-made. 'Take your mind and make your own reality,' Portman said, describing the mind as a beautiful but out-of-control stallion – 'he's strong and he's fast, but what is he accomplishing?' – that needs a jockey. 'You put a jockey on your mind, and you direct all that energy, and it makes a difference.'
Entelechy II is the expression of all that energy, all of that long and exciting and beautiful life that Portman had, but directed, jockeyed. From his first ever commission, the renovation of the Fraternal Order of Eagles Building, to the AmericasMart development that kick-started Atlanta's transformation into the country's third-largest convention and trade centre, and to John Portman & Associates' work deigning entire cities in China, his existence involved very little laurel-resting. He went to the office six days a week. Also, his focus on exploring his internal life was balanced by the fact that virtually his entire family worked with him.

For Portman, architecture was essentially about enhancing the human experience, about giving a guy on the street a moment of protection, or exhilaration, or excitement, or simply an experience. 'It is kind of like Candid Camera,' he said of his observations of humanity. 'When I'm in a house, when I'm in a restaurant, when I'm in a theatre, when I'm on the sidewalk, when I'm on the plaza, I'm observing people and their reactions to things,' he said. How, then, given all of this control and all of this observation, did he avoid getting a God complex? 'It's just about asking, "Why am I here?"' he said. 'Why, why, why, why, why?' Entelechy II is the closest Portman could have come to an answer.

A version of this story was originally featured in the December 2009 issue of Wallpaper (W*129)
INFORMATION
For more information, visit the John Portman & Associates Inc. website (opens in new tab)