Jean Prouvé's 'Tropical Habitat for Cameroun' moves to Marseille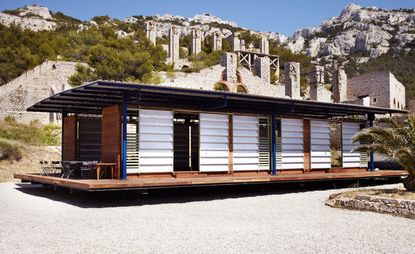 (Image credit: TBC)
Éric Touchaleaume is a Paris-based antique collector with a profound attachment to Marseille and to Jean Prouvé. In 2011, he bought la Friche l'Escalette, a disused lead mine in the National Parc des Calanques south of Marseille. This unique industrial heritage site was the perfect backdrop to Touchaleaume's project: to create a private cultural park to share his passion for contemporary sculpture and Jean Prouvé's lightweight architecture. The park opens this summer with its key exhibit, Prouvé's 1958 steel-frame prototype of the 'Tropical Habitat for Cameroun'; the first time it's ever been exhibited.

Touchaleaume discovered the prototype by pure chance. He was travelling through Cameroon in search of one of the architect's tropical school buildings, where he crisscrossed the country for two months, only to find most of the structures derelict or demolished. Despondent, he was driving through the Yaoundé suburbs to see the German missions when he chanced upon some school buildings with their aluminium roofs still intact. One was slightly taller than the rest.

'I instantly recognised Prouvé's famous prototype with eight wave panels instead of the usual seven of the standard models. After some intense negotiation with the village chiefs, I was told it was all or nothing,' he recalls. 'I then became the proud owner of five Prouvé houses including the original prototype.'

Some were dismantled to provide parts to reconstruct the prototype following the archival blueprint. Posts, girders and purlins are made in Prouvé's signature technique of folded sheet steel. For economy, the metal frame was replaced by locally sourced okan, an insect-repellant African teak so dense it has to be cut with a metal chainsaw.

The overhang of the parasol roof ensured protection from harsh sun and monsoon rains, while the space between the roof and the dropped ceiling combined with the perforated 'airplane wing' wall vents provide amazingly effective natural air conditioning, with the inside temperature up to 18°C cooler than outside – equally appreciated in the Mediterranean's summer heat.
INFORMATION
Guided visits are available until 30 September, by reservation only. For more information, visit the Friche l'Escalette website (opens in new tab)
Photography: Michael DePasquale / Martina Maffini
ADDRESS
La Friche l'Escalette
Route des Goudes
Impasse de l'Escalette
13008 Marseille
VIEW GOOGLE MAPS (opens in new tab)