Brute force: the Beverly Hills lair of serial entrepreneur James Jannard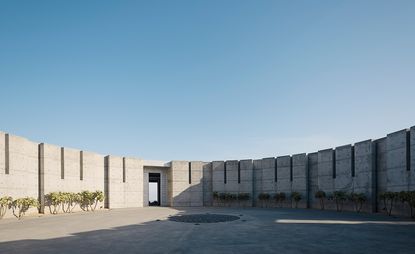 (Image credit: Joe Fletcher)
James Jannard – Jim to his friends – owns a lot of things. He owns several properties in Malibu and in Newport Beach, California. He owns two islands in Fiji, a third in the Pacific Northwest. He also owns a substantial collection of vintage 1980s sunglasses and biking gear. These last two are evidence of something he used to own – the Oakley eyewear brand, which he launched in the 1970s as a maker of motocross equipment, and the sale of which, for $2.1bn in 2007, allowed him to buy many of the other things he owns today. This is a man who knows what he likes, and tends to get it.

Jannard has now added another home to his residential options, perched atop a cliff in the chichi Trousdale section of Beverly Hills. The neighbourhood has a standing ordinance forbidding any construction above the first storey, ensuring that the two-acre site has an unobstructed view of nearly the whole Los Angeles basin, from Downtown to the sea. This perch is scarcely less spectacular than the building Jannard has now plonked down on it, an 18,000 sq ft citadel in exposed concrete and aluminium. The house has no official nickname gracing its giant mechanical entry gate; yet the one that suggests itself is cited by both the owner and his architects, iDGroup, as an essential touchstone (so to speak) in developing their brash and brawny scheme: 'Stonehenge'.

A quasi-Druidical enchantment settles over the house just before noon, as the raking southern light pierces the cavernous interior. Sitting on one of the bespoke stools (all, or nearly all, of the house's furniture is custom-made) just beside a bristling all-chrome kitchen (not the real kitchen, mind you, just the show kitchen), iDGroup principal Jeff Vance explains how the design process worked.
'This was a client who just let us dream,' he says. 'You need to meet expectations, but we only had six or seven design meetings.' Surprisingly easy-going, trusting his architects to take the lead, Jannard sat back and gave Vance and his team room to run – 'not the normal thing', says Vance, whose firm specialises in high-end residential work, and who has had to deal with far more demanding customers.

Though it took five years to complete the house, the outline of the project was sketched out in just a few bold strokes: it would have a high-tech feel, bringing in some of Jannard's product designers for the all-metal fixtures; it would take advantage of its singular locale, with multiple vantage points looking out to the sprawling urban vista; and, of course, it would be monumental, recalling a certain prehistoric rock formation in southern England.

The plan itself is almost as simple as its illustrious forebear. A giant oval courtyard fronts the rectangular block of the house; inside, the rooms are laid out symmetrically, with an open living space flanked by service areas to one side and the guest suite and master bedroom to the other. In a typical interior this might look rather old-fashioned, but iDGroup has stripped out most of the walls, leaving only a forest of 96 oversized columns. However barebones, 'it doesn't feel like you're in a concrete culvert', notes Vance, in part thanks to specially designed acoustic panels that cut out echoes and make the place feel surprisingly homey.

And then, of course, there's that view. Entering from the elliptic car park by a faintly sinister metal door, the visitor instantly finds themselves looking past the central lounge area, over the infinity pool beyond, and out to the entire metropolitan region, running clear to the hazy horizon. There is a glass partition that rises out of the floor, but it's left down on fairer days, which is most of the time in Southern California. The reveal is impressive to say the least.
An atmosphere of the 'mad scientist' – another watchword for both architect and client – suffuses the house. The gas hearth to one side of the living room is topped by a massive mechanical hood – it looks like Frankenstein's fireplace. The master bathroom features a giant metal tub, inscribed with a phrase in Tolkienian Elvish. (Jannard's other company, Red, created the digital cameras used to shoot The Hobbit franchise.) The ceiling pendants, part of a collaboration between iDGroup and the client's own design team, bristle with cables and finials. As with almost all the seating and hardware, the lighting is fashioned out of tumbled aluminium, practically the only other material treatment in the whole house except for the bare concrete walls and floors: there are no rugs, no clutter, almost no personal belongings whatsoever.

'He's not a showy guy,' says Vance of his client. Still, the house definitely feels like a showpiece, an improbable collision of Hollywood sci-fi and late-1960s brutalist architecture.

So how does this unshowy showman, this maximalist-minimalist, actually live in his monumental pile on the hill? 'It could have ended up feeling like a prison,' says Jannard. 'But, in fact, it's very warm, very comfy.' The businessman and his wife have been using the house as an urban pied-à-terre, and as a convenient spot for hosting meetings when they're in the city; it also doubles as a useful storage space, with its basement packed full of ephemera from Jannard's arious ventures.

In a way, the house is simply another item in Jannard's outsized inventory, a personal temple to his entrepreneurial vision. Yet the owner insists that its heady combination of theatricality and simplicity is about more than just the wow-effect. 'You can envision there's all these inventive activities going on inside,' says Jannard: in a life so full of stuff, the house affords an environment of creative repose. Not just another acquisition in its owner's extensive collection, it is a place to recharge, and to dream up other things.

As originally featured in the October 2017 issue of Wallpaper* (W*223)
INFORMATION
For more information, visit the iDGroup website