Baranowitz Goldberg and Pitsou Kedem design Jaffa penthouse for Aby Rosen
We visit a Tel Aviv penthouse apartment by prolific developer Aby Rosen at the Jaffa hotel, a residence designed by Baranowitz Goldberg and Pitsou Kedem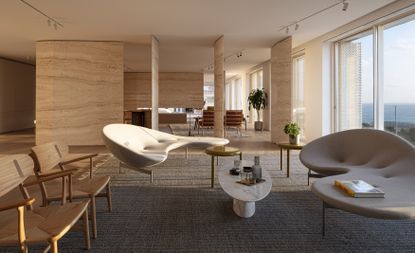 (Image credit: Amit Geron)
On a clear day you can see the Jerusalem hills from the roof garden of the Jaffa Penthouse. Turn to the north and you'll notice the modern ivory buildings that gave Tel Aviv its nickname, the White City. Pivot further and you can watch the sun fall clear into the Mediterranean, past a palm-lined beach.

These sweeping views and the 5,500-year-old timeline they represent inspired the design of this 1,500-square-metre apartment in the ancient, multi-ethnic enclave of Jaffa. Local practice Baranowitz Goldberg and Israeli architect Pitsou Kedem used warm Mediterranean stone and marble to construct a space with sweeping views from end to end, interrupted by sculptural dividers resembling megaliths.
The rooftop terrace may be the crowning glory of this property, currently on the market for US$65 million, but the journey there is quite a ride. Downstairs the architects have built out from the pared-back envelope with vast banks of wood and marble, pleated and sliced like modernist paper-cuts. Partitions crack apart like ruins; louvre-shaped travertine pillars cast shadows like sails on a dhow; a sinuous spiral staircase mimcs the intrepid rounded corners of Tel Aviv's celebrated Bauhaus buildings. These non-walls allow a steady flow of light – and people – to bypass, even into the peek-a-boo master bedroom.

Opportunities to develop property in this prehistoric Mediterranean port come along rarely. The prolific developer Aby Rosen took over the original building, a French malaria hospice from the 19th century, and financed its restoration with plans for a luxury hotel on the site. In the process, workers discovered a 13th-century crusaders' bastion. The hotel, simply called The Jaffa, took a decade to complete. The penthouse completed late last year.

The apartment's neutral palette echoes the heat, dunes and sandstone that define the landscape. Furnishings by Carl Hansen, B&B Italia and De Padova are a natural accompaniment. Drifting from one seating area to the next mimics the experience of exploring the cool alleyways in the old city. Then you turn around to gaze out the full-height windows. The view, like looking down from a mountain, is biblical.
INFORMATION
pitsou.com (opens in new tab); baranowitz-goldberg.com (opens in new tab)