Ström Architects bring Swedish modernism to a New Forest country house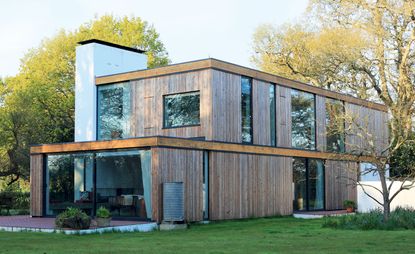 (Image credit: Sam Irons)
Nestled upon the edge of a New Forest village in southern England, bordered by woodland and open fields, this recently built country house is defined by its owners' passion for Nordic architecture and design. Woodpeckers contains a striking collection of midcentury furniture by Alvar Aalto, Hans Wegner and Bruno Mathsson, among others; and its design is infused with Scandinavian influences that stem from a happy synergy between the owners and their architect, Magnus Ström, who grew up in Sweden immersed in the region's modernist legacy.

'Modernism is part of me somehow,' says Ström, now based near his clients in Lymington. 'Swedish modernism was not just about design but a whole way of living that took into account light, health, the relationship between inside and outside, as well as an active way of life. All that became part of the Swedish modern movement along with the importance of craft and materials, and it's still relevant today, although our buildings adapt to become contemporary.'

Ström's architectural thinking is informed by these roots, as well as his preoccupation with structure, detailing and order. These elements are all expressed at Woodpeckers, the practice's first completed new-build house. The clients, who work in the design industry, first came across Ström's work in Wallpaper's 2012 Architects' Directory (W*161) and saw that his practice was local to the
site of a 1960s bungalow that they hoped to reinvent or replace.

'They had used the bungalow as a weekend house for five years and knew that they wanted to do something,' says Ström. 'When we first met it wasn't clear whether that would be a refurbishment or a new house. But the building was in such bad shape that a refurb wasn't viable, although we pretty much kept the footprint of the original house and extended a little. It is an amazing setting so it was important to preserve the garden and surroundings as they were.'
The replacement house is a two-storey timber-framed building set on a brick plinth and clad in larch. Ström was keen to avoid traditional punched windows, of which there is only one, and opted instead for banks of floor-to-ceiling glass that maximize connections between the interior and the landscape. In the open-plan living space on the ground floor – with a seating area, a dining zone and a kitchen – this relationship is enhanced by a projecting conservatory and terrace. Another key feature is a double-height atrium around the dining table, with a two-tiered wall of glass looking out onto a meadow. This open void introduces a sense of scale and volume that makes this fairly modest home (195 sq m) seem more generous than it is, while also helping to connect the two levels of the house. The ground floor also hosts utility spaces and a private den, while there are three bedrooms upstairs.

A sense of warmth is introduced by the repeated use of brick and timber elements. There is a white-painted brick hearth, as well as terracotta floors downstairs. 'The clients' inspiration was midcentury architecture by Alvar Aalto and Peter Aldington, so they always wanted these brick elements,' says Ström. 'We didn't need that much, but you can see it from almost anywhere in the house. There is also something very appealing about having a fireplace, even in a super-insulated new building, and about the whole idea of hearth and home.'

Ström has a number of residential projects under way, in Dorset, Rutland and London. There's also work back in Sweden, where he is designing an island home near Stockholm and working on the refurbishment of a midcentury house near Jönköping, at the southern end of Lake Vättern.

Ström grew up in Gothenburg and southern Sweden. His parents (an accountant and a language teacher) built their own home, furnished with Bauhaus and Aalto furniture, and he took an early interest in architecture.
Faced with a limited number of architectural schools in Sweden, Ström looked further afield and went to study at the UK's Portsmouth University, where he could also indulge his passion for sailing. One of his tutors was architect John Pardey, who is known for his carefully crafted country houses. After a year working in Dublin, Ström was offered a job by Pardey.

'I worked with John for eight years and he was really a mentor to me,' Ström says. 'He has worked on a lot of one-off houses and I worked on some of those closely with him, so it was a very formative time for me. John taught me a lot, both at university and working at the practice.'

Like Pardey, Ström has focused much of his work on the unique character of the contemporary country house. Woodpeckers is the first of a sequence of projects, which have different settings but are bound together by a focus on materials, structural order and craft. For Ström's clients, who divide their time between London and the New Forest, there is evident pleasure with the warmth and cohesion of the house.

'The sense of light and space is very special,' they say. 'We loved the combination of the sea and the woods in the New Forest and the relative isolation of being down a track and surrounded by trees and fields, so the connection with the outside was a key component of the design process for us. This becomes the essence of being at the house, when you are moving around it or when you are sitting down. Aalto's houses were an influence, but so was the work of Aldington and Louis Kahn, and our interest in 20th-century design sits really happily within the house.' 

As originally featured in the October 2016 issue of Wallpaper* (W*211)
INFORMATION
For more information, visit the Ström Architects website