In plain sight: Rogers Stirk Harbour + Partners reveal Spy Museum designs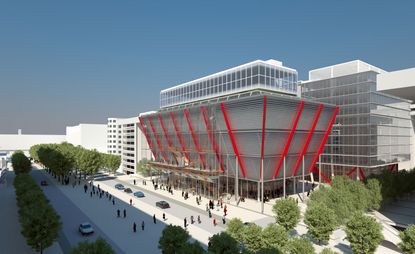 (Image credit: Press)
For a building housing the world's largest accessible collection of espionage artefacts, Rogers Stirk Harbour + Partners' design for Washington DC's International Spy Museum is decidedly conspicuous; even when – or perhaps especially – considering the proposal themes of 'concealment' and 'in plain sight'.

Be that as it may, new renders of the museum building are aesthetically impressive, possessing clear – if stripped down – parallels with practice founder Richard Rogers' iconic co-design of the Centre Georges Pompidou (in no small part due to RSH+P's signature red detailing). The most prominent new alteration within the firm's masterplan for the city's L'Enfant Plaza, the Museum features an expansive, inverted trapezoid atop a single floor, glass walled 'atrium' at ground level.

The building's key functional spaces are found in the 'exhibition' and 'events' boxes: the former featuring three levels of exposition, theatre and teaching areas; the latter a double height glass structure perched on top of the exhibition halls, offering further event space and lofty panoramic views of the city and waterfront.

The International Spy Museum, explains the practice, will influence the character of the area 'by generating activity and interest within a neighbourhood noted for large scale government office buildings'. Building proposals for the new site and structure were submitted to the US Commission of Fine Arts on 16 July – approval is now awaited. The museum is currently located within downtown DC's Pennsylvania Quarter; as well as a permanent collection including such idiosyncratic trinkets as a lipstick pistol, a pigeon camera and a pair of spectacles concealing a cyanide pill (for spies favouring suicide over torture), it also hosts a range of 'interactive spy experiences' and, currently, a comprehensive exhibition on the history of Bond villains.