In memoriam: Juliaan Lampens (1926-2019)
At the age of 93, Belgian architect Juliaan Lampens, a masterful builder in concrete, wood and glass, has passed away in Ghent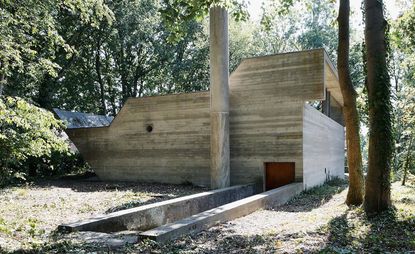 (Image credit: press)
Even before Juliaan Lampens acquired his architecture degree, he had started to build houses. The Belgian architect, son of a carpenter, was born in 1926 near Ghent in Belgium. He founded his architectural practice in 1950, and was active predominantly in the East of Flanders.

Like many Belgians of his generation, he visited the World's Fair in Brussels in 1958, an experience of profound impact. The modernist architecture on show there, by Le Corbusier and others, introduced both Lampens and the wider Belgian public to modern architectural styles.

But although the influence on Lampens was immediate, causing him to drastically rethink his architectural direction and prompting him to design his own avant-garde home in 1960, it took a few decades before his radical vision on architecture was recognized as exceptional and brilliant in Belgium and beyond.
Lampens said his house in Eke – which was characterized by a massive concrete roof, an open floor plan across the entire volume, and a harmonious connection between interior and exterior – was "the ultimate calling card"; and indeed, commissions from likeminded clients increased thanks to this visual manifesto.

In the Vandenhaute-Kiebooms House, completed in 1967, and the home he designed for the teacher Albert Van Wassenhove near Ghent in 1974, these same elements recur most drastically: the sizeable raw concrete and glass structures have a minimal amount of load-bearing walls, are closed at the facade but fully opened-up toward nature elsewhere, and within the open floor plan even the bathrooms are spatially integrated within concrete cylinders.

Site-specific wooden furniture designed by the architect turned these homes into Lampens' individual expression of a Brutalism-inflected Gesamtkunstwerk.
Through his architecture Lampens championed a family-focused and egalitarian way of living that went against the grain of his contemporaries' bourgeois emphasis on individuality and hierarchy.

Apart from the bunker-like homes Lampens designed, he also authored a pilgrimage chapel (Edelare, 1966) and a library (Eke, 1970) – structures that, despite their relatively small scale, exude an equally monolithic sculptural sensibility that enhances community.

Today, four of Lampens' homes have received heritage-listed status. Their protective concrete shell that embraces a family-centric focus on interconnected living all the while relating holistically to their natural surroundings, is part of an architectural language Brutal in form but human in function that speaks to us still.
Receive our daily digest of inspiration, escapism and design stories from around the world direct to your inbox