Restoration works begin at Hornsey Town Hall in north London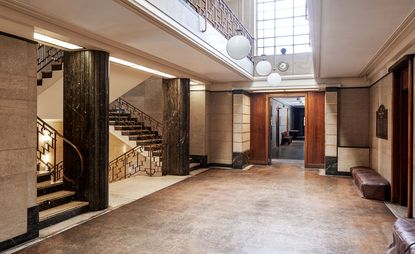 (Image credit: Romain Duquesne)
In 1930s Britain, local councils were having a heyday. From the late 19th century, the government had taken the reins on electricity, rail, postal services, telephone lines and water, amongst other public services. A thriving network of local councils, housed in town halls, was developed to support the activity. Between the two wars, 26 town halls were built across London.

The Grade II* listed Hornsey Town Hall, in north London's pleasant neighbourhood of Crouch End, is a monument to this golden age. Completed in 1935, the building was designed by 27 year old Reginald Harold Uren, a Bartlett-school educated New Zealander and modernist. The brick exterior with its central tower and elongated windows was inspired by Hilversum Town Hall in the Netherlands – a town hall praised as exemplary by the Royal Institute of British Architects (RIBA).

A progressive symbol of local government, the main town hall held a council chamber, committee rooms, offices and a hall for 800 people, and was flanked by an electricity showrooms. The design was a faithful reflection of late Edwardian British architecture, yet also combined modernist elements. The ornamental metal work and carved Portland stone nodded to the art deco and the arts and craft movements. While the steel and reinforced concrete structure lifted from Bauhaus-style construction.
After it ceased operations as a town hall in the 1960s, it was periodically used for music and theatre, but was waiting for a bright idea – and some investment – to bring it back to life.

During this time, however, the interiors stayed remarkably preserved. The Ashton marble staircase, saucer chandeliers, Australian walnut and Indian laurel panelling and cork floors all show the decay of time, yet the town hall became a time capsule.

Fast-forward to 2019 and developer Far East Consortium has just broken ground on a restoration, renovation and regeneration for the whole site.

The restoration by Donald Insall Associates aims to take the building back to 1930s glory – with plans for reupholstered leather seating in the council chamber, restored signage, metal balustrading, parquet and terrazzo. Even the 73 clocks will be restored to working order.

When it reopens in 2022, the Hornsey Town Hall will be serving the people again – this time with an art centre, café, restaurant, hotel and co-working spaces. The Hornsey Town Hall Arts Centre will be operated by the Time + Space Co, with a rich programme of events, performances and comedy shows.
The regeneration of the site also includes two new residential buildings with 146 homes. Make Architects' design takes cues from the Hornsey Town Hall, with layered brickwork, geometric metal balustrades, and subtle art deco style interiors such as replica door handles and chevron timber flooring.

FEC's plan combines restoration with contemporary architecture, but most importantly renews the purpose of the building: 'Community spirit is very much at the core of Hornsey Town Hall's future and we are looking forward to seeing this historic building becoming an integral part of the local community again,' says Angela Walsh, head of sales and marketing at FEC.

So while the Hornsey Town Hall may be changing function from its original purpose, its restoration and preservation as a community building still pays respect to its history.
Built in 1935, the Hornsey Town Hall is a monument to a golden age of local council leadership in Britain. The Grade II* listed brick building, inspired by a Dutch design with art deco and Bauhaus influence, is now undergoing a process of restoration and regeneration. Before works began, we explored the building with photographer Romain Duquesne, to follow a group of suave politicians on the campaign trail documenting body language, briefcases and Balenciaga – see the result in the November issue (W*248) – on newsstands now
INFORMATION
Harriet Thorpe is a writer, journalist and editor covering architecture, design and culture, with particular interest in sustainability, 20th-century architecture and community. After studying History of Art at the School of Oriental and African Studies (SOAS) and Journalism at City University in London, she developed her interest in architecture working at Wallpaper* magazine and today contributes to Wallpaper*, The World of Interiors and Icon magazine, amongst other titles. She is author of The Sustainable City (2022, Hoxton Mini Press), a book about sustainable architecture in London, and the Modern Cambridge Map (2023, Blue Crow Media), a map of 20th-century architecture in Cambridge, the city where she grew up.
With contributions from