Graduating: Vancouver's UBC reveals a progressive new extension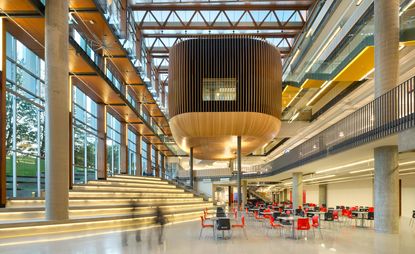 (Image credit: Ema Peter)
In contrast to Arthur Erickson's and Geoffrey Massey's Simon Fraser University (SFU) which was designed and built as one, a singular architectural moment in time, Vancouver's University of British Columbia (UBC) has always been a hodge podge of styles and eras. But in the last decade, dozens of new buildings have graced the campus and raised the architectural ante considerably.

The new Student Union Building designed by DIALOG (opens in new tab) and B+H (opens in new tab) is the latest – and is the most ambitious project to date. With a plethora of uses and spaces – from a theatre to office and retail space to a rooftop garden and daycare – it's almost more of a mini-city than a building.

Merging curvilinear detail into a rectilinear plan over five floors and 250,000 sq ft, the Leed Platinum (a high environmental standard) building features a variety of spatial experiences. Conceived by the architects as part of a highly collaborative process with the student body (whose funds also financed 75 per cent of the $103 million budget) it's more about 'meeting student needs than architecture', says DIALOG'S Joost Bakker.

Still, it's a handsome building. Its apparent complexity is broken down into a relatively simple plan: a long narrow structure bisected by a contemplative 'galleria' study area to the east, that features framed views of the mountains and giant glulam beams that recall the upturned hull of a ship, and a light-filled atrium to the west.

The entrance way ushers students into a veritable marketplace of ideas – as well as retail and food venues – its scale and massing broken up by different levels, mitigated by nook like private study areas.

A giant wooden hub called the 'nest' floats over the atrium, and contains a black box theatre. An endless stairway to heaven – or higher learning – leads students to a labyrinthine lounge on the roof of the theatre. From this summit, the rest of the building and much of the adjacent square can be admired, lending a sense of 'graduation' and arrival.
INFORMATION
Photography: Ema Peter