Urban futures: Raumlabor speak to W* about their largest exhibition of the year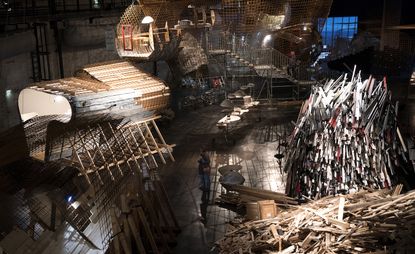 (Image credit: md2016)
'NEOCODOMOUSSE', a major new exhibition by Berlin-based architects Raumlabor, focuses on urban renewal and regeneration, and takes place in the former submarine base of the industrial harbour town of Saint-Nazaire, France. We wouldn't expect anything less from the unconventional studio. Wallpaper* met with Markus Bader and Benjamin Foerster-Baldenius, two of Raumlabor's founding partners, in Berlin, in their secretive, creative and interactive studio HQ on the industrial border of Kreuzberg and Alt-Treptow.

W*: Who is Raumlabor and what drives your practice?
BF-B: Raumlabor is a collective group of nine creatives trained in the field of architecture. We are: Andrea Hofmann, Axel Timm, Benjamin Foerster-Baldenius, Christof Mayer, Francesco Apuzzo, Frauke Gerstenberg, Jan Liesegang, Markus Bader, Matthias Rick († 28.04.2012).
MB: We emerged as a group of people with a common goal and intention to survive within the field of architecture; we were looking at public spaces and their opportunities. We all wanted to explore immediate actions together as a mode of doing things rather than following the classic path of working in an office, handing in competition after competition. We wanted to find out how we could intercept our own ideas into environments and see what happens.

How did Raumlabor come into existence?
MB: Our project in Halle-Neustadt – which involved transforming a large, abandoned, 18-storey apartment block and plaza in the former East German city of Halle-Neustadt into a hotel and festival for two months in summer 2003 – was the real beginning. We were re-appropriating and re-imagining the potentials of a city that was previously stigmatised, considered horrible and full of Nazis. Through this experience we felt extremely empowered and powerful. We actually managed to turn around the public perception of this town from being a grim place without fantasy and future to a place where lots of things were possible. This project was the turning point for us – we felt 'wow' that was great, let's do more of this.

What is this exhibition about, and how does it link to your work?
MB: Benjamin Baldenius and Francesco Apuzzo were the masterminds behind 'NEOCODOMOUSSE'.
BF-B: 'NEOCODOMOUSSE' is our largest exhibition this year! Curated by Sophie Legrand Jaque, it's an experimental building workshop where we propose our first 1:1 try-outs of structures for the future of collective housing in Saint-Nazaire, a city that is an economic centre of an ending era (it lives off the production of the largest passenger ships on earth, aeroplanes and fuel). Fuel is now at its end and aeroplanes and cruise ships are the greatest killers of our climate, so the question we addressed was, what are the possible futures of such a place? Our proposal is the foot-in-the-door approach for a new emerging market: the production of collective space from industrial waste.

What else is Raumlabor currently working on?
MB: One project worth mentioning is definitely Haus der Statistik. We're part of an initiative to re-imagine the potential of a vast empty office building in the centre of Berlin, and proposing how it should be and could be used as a space for refugees, creatives and artists. The plan is very simple; it's the idea of applying the mixed city idea to a large building.
INFORMATION
'NEOCODOMOUSSE' will be on view at LiFE, Saint-Nazaire, until 9 October. For more information, visit the Raumlabor website (opens in new tab)
Photography: md2016
ADDRESS
LiFE
Base des sous-marins
Alvéole 14, Bd de la Légion d'Honneur
Saint-Nazaire
VIEW GOOGLE MAPS (opens in new tab)