Join our tour of Freiburg, the German city leading the way in sustainable architecture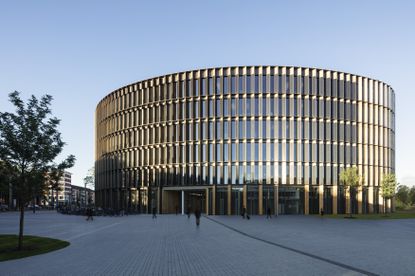 (Image credit: Ingenhoven architects/HGEsch)
An island of liberalism in the conservative south, Freiburg is a charming university town and one of the warmest and most sustainable cities in Germany, where Mediterranean climes mean passive heating systems are the norm and trams trump cars at every turn. A medieval town sadly flattened by the war, its considerable cache of modern eco-friendly buildings has been augmented by a new town hall that situates it firmly on the map of cutting-edge green architecture.

The winner of the 2018 Balthasar Neumann award, the new Freiburg town hall by Ingenhoven Architects that opened last November has the feel of an eco-coliseum. A beacon of sustainability, with a skin of vertically staggered photovoltaic cells and locally sourced birch, its inner sanctum is a vaguely sci-fi feeling courtyard where domed skylights are flanked by indigenous grasses and plantings.

The pedestrian-level floors are glazed to promote a literal and figurative sense of transparency, while its roof boasts a giant oculus that opens up to a breathtaking view of the surrounding city. The world's first public net-surplus-energy building also enjoys an adjacent day nursery – a kind of mini-me version of the town hall – and a public plaza.

Vaubon, Freiburg's uber-green enclave that morphed from squatters' communes to city-subsidised independent housing, is home to the groundbreaking Green City hotel (by Barkow Leibinger) as well as the red-toned cubed Montessori school by Spiecker Sauter Lauer.

A new tram stop and café with a distinctive curved roof on the edge of Freiburg's historic district by J. MAYER H in partnership with Architekten structure will soon be complete.

And Dietenbach – a new district slated to be one of the biggest urban developments in Germany – will be located at the edge of the city centre, covering an area of 100 hectares, and promises to house up to 14,000 inhabitants in 5500 new sustainable dwellings.
While the future looks green, the past is alive and well at the edge of Freiburg's oldest cemetery, where a new parish building by Stocker Dewes Architekten quietly pays homage to an adjacent mid-century church with skylights that open up to its bell tower, while medieval burial stones are displayed as installation art. The very touristic, historical old town is brought into the 21st century by the 2016 Degelo Architekten + IttenbrechBühl library – which sits across from a plaza that was the former site of the city's 19th-century synagogue (destroyed during Kristallnacht), now transformed into a memorial fountain.

Meanwhile in Wiehre, the upscale 19th-century residential district established by silver miners (that escaped the worst of the Second World War bombing) turned bohemian design enclave, Germany's oldest and only women's schwimmbad (swimming pool) offers the option of a refreshing dip, while 500 metres away, refugee housing by Stocker Dewes offers succour to those fleeing war zones.

Overlooking the city from its scenic foothills, Germany's first United World College was built (by Peter Kulka Architektur and Hotz + Architekten) on the bones of a Carthusian monastery. Energy efficient cube-shaped student residences offer a Bauhaus inspired vision of an idyllic international and sustainable community, where sheep graze amidst modernist monastic interventions and a sweeping view of the city of the future below.