MU Architecture's weekend retreat treads lightly in its rugged setting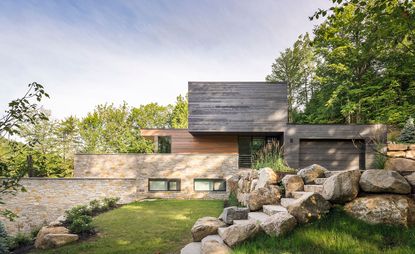 (Image credit: Ulysse Lemerise Bouchard)
One of the thrills of following Canadian architecture is witnessing how the most radical designs play out on the least hospitable terrain. A case in point is the Estrade residence, cantilevered over a rocky ridge that plunges into a lake 90 minutes from Montreal.

Charles Côté and Jean-Sebastien Herr of the Montreal practice MU were undeterred, having already successfully tackled homes in the rugged Laurentian mountains. This one, commissioned by a family of five, took more than a year to construct, including the requisite winter hiatus.
Take an interactive tour of Estrade Residence

'We had to play with the topography in order to insert the house,' says Herr, using code for the dynamite required to excavate. 'Once we'd inserted the cantilevers and set the road with the excavated stone, it was pretty straightforward.'

The clients wanted a weekend home that integrated with the landscape, benefitted from natural light and ventilation and looked across the breathtaking lake. 'Otherwise we had carte blanche,' says Herr. 'Apart from the budget.'

That it would be minimalist came with the territory of hiring MU. The warmth came from the local materials – stone, ash and black-stained brushed cedar, which will soften in tone from the harsh winters.
The home thrusts toward the lake, but visitors approach from the side, past a floating staircase that leads downstairs to the children's rooms and up to a master suite. 'Nobody wanted to build that staircase,' says Herr, 'but we found a young steelworker with a structural engineering background.' He designed a reinforced-steel stringer that anchors into the wall, supporting the ash treads and handrails without pillars.

Around the corner, the living room, dining room and kitchen orient toward a 19m veranda. 'Rooms follow a sequence, or promenade, on every floor,' says Herr, 'always with a visual connection to the outdoors.' The titular estrade, French for platform, refers to the staggered terraces, which appear to levitate over the uneven rock. They facilitate a dialogue between the architecture and the wild landscape. 'And they promote a feeling of wellbeing.'
INFORMATION
For more information, visit the MU Architecture website (opens in new tab)