A San Francisco live/work space plays with opacity and transparency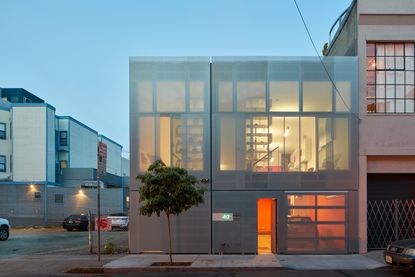 (Image credit: Bruce Damonte)
In a gritty but rapidly evolving part of San Francisco's SoMa (South of Market) neighbourhood, Thai-born artist and architectural designer Raveevarn Choksombatchai (who often goes by the single name Raveevarn) has recently completed a new live-work building for herself. Along these urban streets, it's increasingly common to encounter cutting-edge and experimental architecture shoulder to shoulder with worn industrial structures. Like much of the recent interventions, Raveevarn's new home-and-studio took on the challenges of a tight, mid-block site.

She responded with a quiet insertion that strikes a balance between engaging its urban surroundings while maintaining a private, secure inner realm. From outside, the almost cubic, two-story structure – clad in metal that echoes the industrial setting – may appear deceptively simple. But on the inside, this courtyard building reveals itself as an architecture of layered veils.
Take an interactive tour of 49 Grace
The outermost skin is a rain-screen, a facade of perforated aluminum panels, which overlap to create moiré patterns and other optical effects. Within that shell, a glass-and-metal layer wraps the 226 sq m of interior space; and further inside is a honeycomb of thin, sheet-metal shelving – a practical storage element that forms a two-story partition along the stairway up to the main residential level. Beyond that steel matrix of cubby holes, the design plays with light in finer-grained ways. For example, the freestanding bathroom structures on each floor glow, lantern-like, at their tops, where layers of stretched, translucent fabric form a light-diffusing enclosure. The architect designed all the built-ins, and the place – which includes a garage and a guest suite — also showcases her collections of mid-century modern furnishings and ceramics (much of that pottery is displayed on the steel shelves).

Throughout, there's an animated play of opacity versus transparency, with screening elements modulating light, shadow, and views in (while simultaneously providing for generous views out). It's an architecture that changes appearance continually over the course of the day and night, with the facade morphing from quite solid to seemingly ethereal. Meanwhile, across the inner realm, spaces flow together with boundaries subtly defined, as walls of intense colour — such as tangerine and hot pink — punctuate the interior, leading the way.
INFORMATION
For more information visit Veev Design's website (opens in new tab)