How the 21st century reset the rules for emerging architects today
The Atlas for Emerging Architects finds that social media, flattened hierarchies and increased interdisciplinary collaboration are just some of the factors redefining the experience of emerging architects today. Designed as a tool for architects, graduates and students, this captivating research project collates findings from 95 architects working in Europe into a beautifully designed publication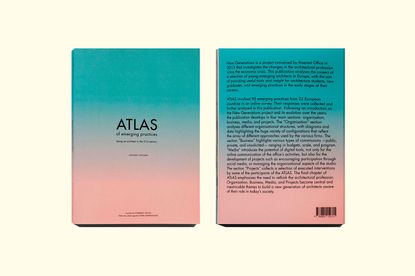 (Image credit: press)
Post financial crisis, digital revolution and climate change, the practice of architecture is evolving. We all know it's changing, slowly, but no-one has done the research and put it into an informative, well-designed and easily digestable format – until now.

Meet Gianpiero Venturini, founder of Itinerant Office established in 2011. His ongoing research project New Generations launched in 2013, when he formed a network of 30 emerging architects and started conducting interviews to document the challenges, daily practice and business values of the studios. Thirty soon grew to 80, and now there are more than 250 practices involved.

This year, Venturini decided to put his findings on paper with the Atlas of Emerging Practices publication. He sent out digital surveys to 95 emerging practices from 22 European countries, and the results were dissected, analysed and organised to create a snapshot what it means to be an emerging architect today. A few from the selection include Kaleidoscope (Finland), MOY studio (Greece), Studio d3r (Germany), Office U67 (Denmark), PiM.studio (UK) and 05 AM (Spain). And thanks to their participation, the book provides a set of tools for fellow emerging talents, graduates and students.
The book traces this gradual evolution of architectural profession through references to articles, bodies of research and quotes back to the economic crisis, and then sees it develop further with the digital revolution and awareness of climate change. It then breaks down how this has affected the profession – from increased international training and experience, nomadism, the gradual dissolution of traditional clients, as well as redefined hierarchies and roles.

Defining the term 'emerging' is connected to the challenges that the architects face. Venturini poses questions such as: How do you get commissions? Who do you collaborate with? How did you set up your studio? The research was born out of curiosity, but its aim is to distill down the pragmatic issues related to these initial phases.

The beauty of the Atlas is its accessibility. Broken down into four main themes – Organisation, Business, Media, and Projects – it gradually unpacks the findings of the research through edited interviews, pull quotes, infographics and statistics mapping out the key findings in a visually captivating way.
Evolving hierarchies in the architecture profession
'Architecture is no longer characterized by the figure of an architects deus ex machine but by a redefinition of top down hierarchies in favour of shared work and Values,' states Venturini in the Organisation section. Here, a word map breaks down what emerging architects name their practices – what makes an architect choose 'atelier' over 'collective' or 'office' over 'workshop' or 'studio'? The meaning behind these words seems to highlight their expectations and ambitions within the industry.

Concerning gender, a perennially talked-about topic in contemporary architecture, there are some important statistics that jump out from the pages – out of 2220 founding partners involved in the project, 72 per cent are male and 28 per cent female. And out of the employees – 60.7 per cent are male and 39.3 per cent are female. While Atlas has a focus on qualitative information, and approaches its limitations head on, once we start to get to know this group of emerging architects, these statistics on gender only assist in building up a stronger picture of the group.

One diagram shows a collection of reoccurring keywords drawn from the interviews – the largest words represent the highest amount of times they were mentioned. We see: collaboration, social networks, crowd-funding, commission, public space, process, research and multi-disciplinary. While these are perhaps to be expected, it's satisfying confirmation to see them on the page, and seeing them altogether forges new connections between them.
When architects met filesharing tools
The ability to share files easily, communicate across oceans with a tap and reach the public through social media has changed how architects work, and increased their accountability. The Media chapter opens with a power statement: 'In just a few years architecture and communication have to become inseparable binary.' The next few pages break down the findings, and a corresponding diagram of words maps out the most-referenced words – Facebook, Instagram score highest, followed by tools such as Google drive, Skype and WeTransfer.

While a presence on social media is a growing pressure for any brand these days, the publication also highlights how architects are using social media as a tool for research in a positive way. Case studies include Antwerp-based ndvr using Facebook to launch the campaign for the purchase of an abandoned building; Paris-based ABACO using Instagram for a photographic research project; and Athens-based emerging practices using Facebook to set up an open house event, Archpoints, as a way to show the public and new clients their work.

Through the Atlas, Venturini reveals that this new generation of emerging architects are socially-minded, democratic, savvy, public-facing, positive-thinkers. So while the challenges are many in today's economic, environmental and social climate, hopefully we are all in good hands. We can't wait to see how this beautifully produced, almost-anthropological project will continue to chart their progress forwards.
INFORMATION
ATLAS of Emerging Practices: Being an Architect in the 21st Century, by Gianpiero Venturini. Published by New Generations, £30
Harriet Thorpe is a writer, journalist and editor covering architecture, design and culture, with particular interest in sustainability, 20th-century architecture and community. After studying History of Art at the School of Oriental and African Studies (SOAS) and Journalism at City University in London, she developed her interest in architecture working at Wallpaper* magazine and today contributes to Wallpaper*, The World of Interiors and Icon magazine, amongst other titles. She is author of The Sustainable City (2022, Hoxton Mini Press), a book about sustainable architecture in London, and the Modern Cambridge Map (2023, Blue Crow Media), a map of 20th-century architecture in Cambridge, the city where she grew up.