Don't Move, Improve! 2023 longlist and what it reveals for London homes
The Don't Move, Improve! 2023 longlist has been announced, unveiling some 50 homes and swathes of creativity in London's residential architecture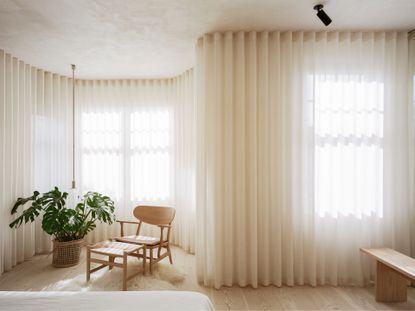 (Image credit: Lorenzo Zandri)
The Don't Move, Improve! 2023 longlist has been announced, revealing 50 renovation projects, an excellent who's who of the most creative architects working within London's residential landscape right now. As pleasant roads of terraced housing reign in the residential boroughs of London – from Lambeth to Kensington and Chelsea, Camden to Hackney – you might not be able to tell from the street that there's a quiet revolution going on behind the uniform façades. Creative extensions and renovations are upgrading the largely Victorian housing stock with daylight-filled, open-plan living spaces, modern insulation and floor-to-ceiling glazing. They are all celebrated by these annual awards, run by the built-environment research organisation, New London Architecture.
The Don't Move, Improve! 2023 longlist
As the 2023 awards highlight, with this year's theme of 'Green Ambitions', renovations are important to improving the sustainable credentials of London's homes. In the UK, energy use at home contributes to around 20 per cent of national carbon emissions. With 80 per cent of UK homes that will still be in use by 2050 having already been built, decarbonising this existing housing stock is key. That's why each longlisted project has been selected by the jury for its innovative approach to sustainable living – from material use to low-energy solutions. Notably, there's a focus on wellbeing too – with dramatic improvements to daylight, better access to nature and flashes of mood-enhancing colours. Plus, there are many savvy in-built interior solutions for compact living, from storage to seating.
A key challenge facing London's architects today is improving the sustainability of homes in protected conservation areas, where the visual character of the neighbourhood, even from the rear, must be preserved, limiting the use of materials and even the replacement of single-glazed windows. These examples in the long-list navigate sensitively between preservation and contemporary living: note Atelier Baulier's elegantly seamless extension in the East Canonbury Conservation area; David Leech Architects' elegantly inset balcony in Belsize Park; and Andre Kong Studio's radical telescopic loft extension that seems right at home amidst Lewisham's Victorian rooftops.
It's hard to miss the tendency towards minimalist architecture and exposed timber interiors, often synonymous with Scandinavian and Japanese home design, amongst the longlist; many projects reveal the tactile craftsmanship of joinery and the sculptural qualities of timber structure, whilst offering clever in-built solutions for their inhabitants. For example, see Beasley Dickson Architects' Douglas fir-framed and clad garden room; Mulroy Architects' generous bay window seat and storage system; Architecture for London's exposed original timber structure; and ROAR Architects' boat-like vaulted roof.
Consistent to each year's Don't Move, Improve! longlist is the interest in harnessing more daylight for the living spaces of sometimes dark terraced homes, improving wellbeing and better connecting inhabitants to their gardens. Floor-to-ceiling rear walls of glazing have been used dramatically and creatively in Matthew Giles Architects' extensive glazing across four split floor levels, Pashenko Works' minimal two-panel sliding glazing, and Patrick + Rosie's use of void-filling structural glass supplied by Minima.
We're certainly in full support of sensitive and minimal extensions, yet it's also refreshing to see that some architects and clients have experimented with a playful (yet highly strategic) use of colour; and it seems that this year, the perfect vessel for a controlled splash is the window frame. District Architects sets a bright green picture window and door against a neat timber cladding, while [Y/N] Studio's green-framed conservatory offers a double-dose of biophilia. Never disappointing with its artful use of colour, Office S&M showcases bright yellow frames that puncture walls with geometry. As ever, we're always curious to see behind the façades of London buildings, and this year's Don't Move, Improve! longlist is certainly full of surprises.
nla.london (opens in new tab)
Harriet Thorpe is a writer, journalist and editor covering architecture, design and culture, with particular interest in sustainability, 20th-century architecture and community. After studying History of Art at the School of Oriental and African Studies (SOAS) and Journalism at City University in London, she developed her interest in architecture working at Wallpaper* magazine and today contributes to Wallpaper*, The World of Interiors and Icon magazine, amongst other titles. She is author of The Sustainable City (2022, Hoxton Mini Press), a book about sustainable architecture in London, and the Modern Cambridge Map (2023, Blue Crow Media), a map of 20th-century architecture in Cambridge, the city where she grew up.