San Francisco earthquake cottage transformed into 21st-century home
This residential design by architects Jones Haydu in San Francisco's Dolores Heights reimagines one of the city's typical earthquake cottages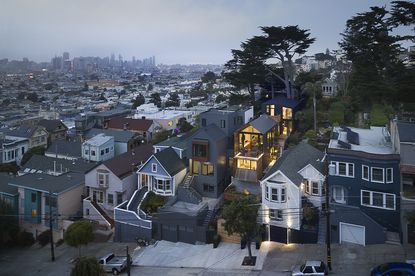 (Image credit: Matthew Millman)
In one of San Francisco's famous hilly neighbourhoods stands the striking Dolores Heights House – at once at home in its residential context of period properties, but also clearly distinct, with its crisp lines and unmistakably contemporary design. Interiors studio Sawyers Design founder Kevin Sawyers and his husband owned the site and the earthquake cottage that occupied it – a structure originally devised as part of a series of temporary housing units for some 250,000 displaced residents following the 1906 earthquake that shook San Francisco. However, the humble cottage was in urgent need of an update, so the owners began a transformation. Working with local architecture firm Jones Haydu, Sawyers and his team created a perfect example of how a modern building can pay its respects to its history and context, yet offer something entirely new and fresh.
The house, spanning three levels and over 3,000 sq ft, features a sharp, angular frontage with large windows and a combination of timber, glass and metal cladding. The metal elements give it a somewhat industrial feel, yet the warm, exposed wood, often found in the works of Jones Haydu, ensures the house is right at home in the quaint streets of San Francisco. Despite its contemporary exterior, the house sits in harmony among the colourful residences and leafy surroundings typical of Dolores Heights.
Inside, the interior blends functionality with comfort, and large openings that frame iconic San Francisco views. Stone and marble features are present throughout the house, such as the fireplace, kitchen countertops, bathrooms and bedroom floors. Yet this coolness is balanced with the timber lining some of the surfaces, the cosy cream that covers the walls, and the sun flooding through the windows.
The main living space feels rich and layered, adorned with a lush, boldly hued rug, craft, art and design items, and generous, high ceilings. It leads out through dark metallic French doors to a deck that thrusts out from the pitched-roof volume – part of a constellation of simple, archetypal shapes, which create an 'almost childlike expression of home', explain the architects at Jones Haydu. The deck overlooks the many cafés, restaurants and the occasional gallery that are dotted throughout Dolores Heights. The residence features a secluded outdoor sitting area flanked by yet more exposed wood and shaded by a mature Monterey cypress tree that invites nature into the living spaces, even though the home is in a densely built, urban setting.
When the sun sets, the residence produces a warm glow, both from inside and thanks to the carefully planned exterior lighting scheme that illuminates the outdoor stairs and sitting area, making the house a true spectacle to behold.
INFORMATION
joneshaydu.com (opens in new tab)