This brutal house: the National Arts Centre of Ottawa is getting a makeover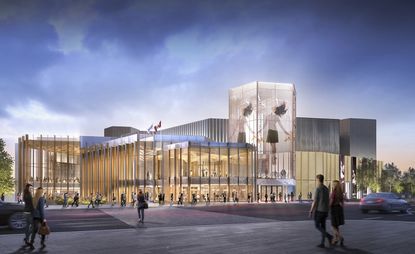 (Image credit: Press)
For many years, Ottawa's National Arts Centre remained as frozen in time as the statue of pianist Oscar Peterson that greets passersby on its Elgin Street flank. But the brutalist classic by Fred Lebensold, originally commissioned by Prime Minister Lester B Pearson to celebrate Canada's 1967 centenary, will be infused with new architectural life just in time for next year's celebrations of the 150th anniversary of Canadian confederation.

Toronto based architects Diamond Schmitt's new design will open up the centre to the public realm, increasing pedestrian and public engagement and transforming the bunker like building into a community crossroads. But renovating the beloved brutalist structure, conceived in concrete with a rigourous geometry as a series of stunted towers that reference the surrounding rugged terrain of craggy escarpments and Canadian Shield, is no mean feat.

The NAC was designated a national historic site of Canada in 2006 and is situated across from Confederation Square, the Rideau Canal and near the parliament buildings. 'People have often remarked that it is unfortunate that the NAC turns its back to the city,' said Donald Schmitt, Principal, Diamond Schmitt Architects. 'Our design will change that. The NAC will finally face the city and its most important public space, Confederation Square.'

The NAC's new transparency will be highlighted by a glass tower extending the geometry of the original architecture and marking the new entrance. A new North atrium will provide public space for education and pre concert gatherings and an upper level lounge will offer views of confederation Square and Parliament Hill. The Elgin Street edge, where Mr. Peterson's statue sits currently, will be animated by a new fourth stage which will serve as a community venue for music.

Extensive interior glazing will open up the relatively windowless building, while plans for video and film projection onto the glass tower will illuminate the exterior, making the new NAC both a local and national cultural beacon.
INFORMATION
For more information on Diamond Schmitt Architects visit the website (opens in new tab)