An education: Calgary's Taylor Institute is a new and experimental space for learning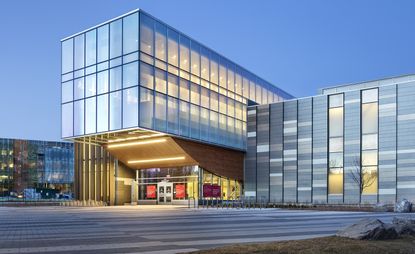 (Image credit: TBC)
On the bones of an old art museum at the University of Calgary, Diamond Schmitt Architects (DSAI) have designed a new hub of learning. At the nexus of a new campus gateway, the Taylor Institute of Teaching and Learning is also at the center of a movement seeking new approaches to pedagogy.

The essential idea expressed architecturally, notes DSAI principle and project architect Matthew Lella, is that 'learning takes place all the time, everywhere and in a whole range of ways.' From lectures to informal meetings and study groups, 'educational exchanges happen inside and outside of more structured approaches.'

Using the footprint of the old Nickel Arts Museum, but opening up its dark, cavernous interiors, DSAI have created a light filled space imbued with a sense of open learning. The facility brings together disparate disciplines from across the campus and acts as an educational laboratory. Its hyper flexible teaching spaces house everyone from art students to physics professors.

The building is composed of two perpendicular rectangular boxes – both unified and differentiated by a giant steel truss – that suspends an East-West spanning glass atrium. Here a central spine acts as an axis for a wide variety of learning spaces and two cantilevered projections that extend over the front entry plaza and into the campus green, blurring indoor and outdoor.

An amphitheatre offers students a vista from which to observe the activities throughout the central atrium, while inventive 'hanging pods' – suspended by steel cables – offer more intimate spaces for study groups. DSAI are known for their theatres (including the Mariinsky in St Petersburg) and their attention to acoustic engineering shines through here, with wood paneling offering auditory buffers so that students can be part of a large public space as well as smaller groups.

Another challenge for the architects was to use technology to enhance intimacy and communication and to 'bring people closer together.' In this age of digitally distracted students, they wanted human exchange, not technology, to be the focus.

To that end a mezzanine tucked away from the public sphere on the first floor and hidden below the second floor research space, disguises nuts and bolts. Tubes and wires disappear under floors, loudspeakers and monitors are hung on rather than built into walls, and wireless is everywhere.

DSAI's theatre prowess enters the realm of pedagogy as the building breaks the fourth wall of learning. This is a place where students observe and are themselves observed, where teachers become pupils, disciplines collide and interior spaces are interchangeable set pieces.

At once an experimental and social space, the Taylor Institute offers an innovative theatre in the round approach to the architecture of open learning.
INFORMATION
For more information visit the Diamond Schmitt Architects website (opens in new tab)