Singapore embraces the co-working revolution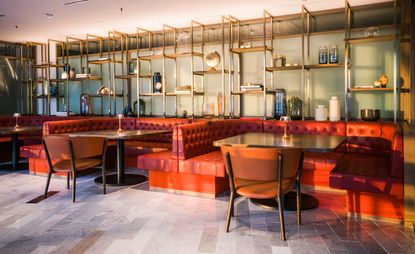 (Image credit: press)
From Amsterdam to Seattle, co-working spaces have become an integral part of the office landscape – a kind of mental, emotional and physical reset in how we approach our work environment. And though the open plan office space – typically represented by endless silos of cubicles under unflattering lighting – is still fairly ubiquitous, the shift, while starting slowly, is gathering steam. Especially in Singapore.
When Saranta Gattie launched The Working Capitol in 2015 on the edge of Chinatown, the move was in response to the then reality that over a third of all workers were already doing flexible and mobile jobs that did not require a permanent desk.
A year later, Jaelle Ang and her partners launched The Great Room in the central business district. Their soigné version – as its co-designer Paul Semple of Hassell put it – is 'fundamentally a work environment with a hospitality overlay.'
In the year-and-a-half since, other avatars of co-working spaces have come online in Singapore. Both of the recently launched private members clubs, 1880 and The Straits Clan, incorporate capacious rooms devoted to flexible, mobile desk-hoppers. Co-working giant WeWork, meanwhile, launched last December, and it already has two sizeable locations on either side of the Singapore River.
And the trend does not look like it is petering out any time soon. The Great Room recently opened its second office (again kitted out by Hassell), this time in Centennial Tower, a sparkling skyscraper designed by Pritzker-Prize laureate Kevin Roche with panoramic views of Marina Bay. By May, it will have added a third Singapore outpost on the Orchard Road retail strip, while ratcheting up its regional presence with openings in Bangkok, Jakarta and Hong Kong.
See the finest design-led co-working spaces around the globe
Ang explains the co-working market's bullishness and rapid expansion in terms of three growth drivers – the proliferation of small firms and business start-ups; a more footloose globalised workforce fueled by technology; and millennials (the largest demographic in the working population) who embrace the sharing and experience economy. Co-working spaces, she believes, will become, if they aren't already, a critical component of the real-estate strategy of any company, whether as a tenant or as a building owner.
Indeed, the financial advantages to co-working are obvious. Aggregated on both a per-employee and per-square -foot basis, sharing common resources (think security, cleaning and IT maintenance) and common amenity spaces (library, meeting rooms, kitchen, printer, nursing room, wellness studio) is demonstrably more cost-effective than setting up an entire office single-handedly.
Adding a growing demand for work mobility and flexibility to these fiscal realities, Ang notes, 'makes co-working especially appealing to groups trying to stay nimble, such as fast-growing start-ups, global companies with a primarily remote or on-the-go workforce, independent professionals who jet-set, or new divisions of blue-chip MNCs.'
Daven Wu is the Singapore Editor at Wallpaper*. A former corporate lawyer, he has been covering Singapore and the neighbouring South-East Asian region since 1999, writing extensively about architecture, design, and travel for both the magazine and website. He is also the City Editor for the Phaidon Wallpaper* City Guide to Singapore.