Ian Chee's Singapore apartment blends past and present
Architect Ian Chee welcomes us into his Singapore apartment, where past and present cohabit in perfect equilibrium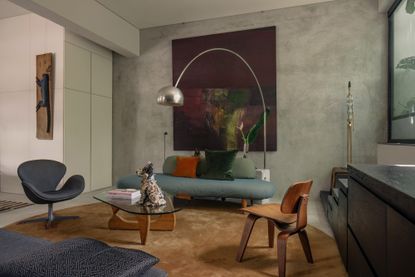 (Image credit: KHOOGJ)
Upon entering Ian Chee's Singapore apartment in Tiong Bahru, an area known for its listed art deco buildings, you experience a tremendous sense of dislocation. The first impulse is to pause at the door, and then step back outside to check your sense of depth and perception, for it hardly seems possible that the relatively nondescript frontage – a white low-rise apartment block built, like the rest of the neighbourhood, in the mid-1930s by the Singapore Improvement Trust as a test case for public housing – could contain such a vast and, well, completely unexpected interior. This must be what it's like to step into the Tardis.
A Singapore apartment with a sense of history
When Chee was apartment hunting a few years ago, the Architectural Association-trained architect found himself drawn to Tiong Bahru as much for its dominant architectural style as for the proportions of the interiors, with their spacious rooms and high ceilings. 'I was downsizing as I was spending more time in Bali, so I had a few criteria. The possibility of a garden courtyard was key and I also needed to be able to fit in my Steinway,' he says. 'I saw quite a few apartments, and they were all very different in size due to the uneven terrain.'
The 145 sq m ground floor apartment he eventually settled on ticked all the boxes, though there were a number of hurdles to overcome first, not least of which was to strip the space down to its bones. 'The apartment was privatised in the late 1960s and the alterations dated from that period, with different mosaic flooring on different levels,' Chee remembers. 'Not much from the original building remained. Even the windows had been changed.'
He streamlined the spaces by bringing down most of the walls, reduced the original three bedrooms to two, reinstated the old-style panel windows, added another bathroom, and shifted the kitchen to the front. What had been a closed-up warren of rooms now expanded – almost like an exhale – into a long open space, with a clear line of vision from the kitchen straight through to the back of the apartment where Chee had set his bedroom.
The design was quite simple, Chee says, adding 'the challenges were mostly mechanical and plumbing issues, which we resolved with the engineers. Materials, technology and living habits have also changed and these needed to be addressed. We tried to respect the feel of the old buildings from the time they were designed.'
The apartment, now free of six decades of haphazard accretions and benign neglect, is, despite Chee's protests, a study in balance and proportion, every piece of furniture and decoration picked from a large trousseau accumulated from his family and his years living in London. What was not earmarked for his home in Bali would remain in the newly renovated apartment in Singapore. 'I had to select things, as all my collected life could not have fitted into this space.'
The living room is held together with a mix of family history and a classical taste. The sofa and ottoman are vintage Isamu Noguchi, which Chee bought when he first got to London in the late 1980s, and the vintage Arne Jacobsen 'Swan' chair is reupholstered in a sports shoe fabric. The 1950s Heal's dining table is from Lots Road Auctions in London, while the dining chairs are prototypes designed by his studio in Bali.
Chee describes the artwork selection as a mixed bag: a wall hanging by Mulyana here, and an elongated statue of a boy by Lee Hwan-Kwon there, alongside a sculpture of a dog by local artist David Chan, lime wood reliefs made by his friend and sculptor Guy Reid, and handsome calligraphy scrolls inherited from his grandfather.
The effect is sophisticated, but it is also layered with a cosy, natural warmth – a visual treat that embraces the palimpsest of the apartment's history and Chee's life, as much as it is firmly anchored in modernity. And in that sense, though everything in this apartment is clearly the result of deliberation and a restless eye, nothing ever feels forced.
'I think I have succeeded in creating a space that I am very comfortable with in terms of light and ventilation,' says Chee. On that note, the apartment's bravura moment is the bijou courtyard garden – festooned with split leaf philodendron, polka dot begonia, pandan, turmeric and rau ram (Vietnamese coriander) – which Chee has made the focal point for the entire apartment by replacing the walls on either side of it with floor-to-ceiling sliding glass doors. Soft light falls through the open void to fill his lounge, bedroom and guest room, privacy from the neighbours upstairs achieved by judiciously placed overhangs. 'This courtyard is a joy to my senses,' he says.
In many ways, Chee's Tiong Bahru apartment perfectly embodies his own approach to architecture. Old buildings, he insists, should be retained on their merit. 'But they should not be pickled unless they have architectural or cultural value. I personally love Hong Kong and London for that reason. Those cities have modernised without losing their old characters. The juxtaposition of old and new is, for me, one's cultural baggage and identity.'  
vxdesign.com (opens in new tab)
This article appears in the April 2023 issue of Wallpaper*, available in print, on the Wallpaper* app on Apple iOS, and to subscribers of Apple News +. Subscribe to Wallpaper* today (opens in new tab)
Daven Wu is the Singapore Editor at Wallpaper*. A former corporate lawyer, he has been covering Singapore and the neighbouring South-East Asian region since 1999, writing extensively about architecture, design, and travel for both the magazine and website. He is also the City Editor for the Phaidon Wallpaper* City Guide to Singapore.