Black Creativity in architecture celebrated in Chicago exhibition
New exhibition in Chicago is centred on honouring Black Creativity in architecture through the ages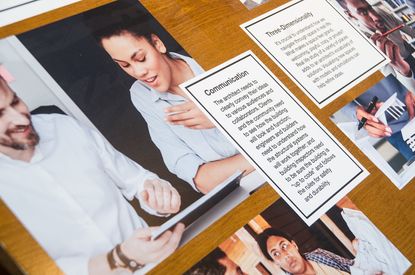 (Image credit: Black Creativity: Architecture)
The 'Black Creativity: Architecture' exhibition at the Museum of Science and Industry (MSI) in Chicago celebrates the contribution of Black architects around the world – from the Great Pyramids of Egypt to soaring, global 21st-century structures. The show is integrated into the museum's annual Black Creativity programme, which first began in 1970 – and fittingly runs through the USA's Black History Month.
The multimedia exhibition, spanning two galleries located across a hallway from one another, features displays of architectural texts, building materials and three-dimensional models of structures designed by Black architects. A highlight is a fragment and several artifacts from the National Pythian Temple, which stood in the South Side Chicago neighbourhood of Bronzeville from 1928 until 1980. Designed by Walter T Bailey, Chicago's first licensed Black architect, the Pythian Temple was the largest commission financed, designed and constructed entirely by Black Americans at that time.
'Black Creativity: Architecture'
Two drafting tables anchor each end of one gallery. One of the tables features a display titled 'Architectural Drawings', along with a photo and quote from Norma Merrick Sklarek, the first Black woman elevated to the College of Fellows of the American Institute of Architects (FAIA), in 1980. The other drafting table features a display titled 'Working as an Architect', along with a photo and quote from Paul Revere Williams, admitted as the first Black member of AIA in 1923.
A timeline covers an entire wall, featuring among others, Robert Robinson Taylor, who earned a bachelor's degree from the Massachusetts Institute of Technology in 1892 to become the first formally educated Black architect in the United States; Beverly Loraine Greene, the first Black woman licensed as an architect in the United States, in 1942; the Johnson Publishing Company Headquarters, the first high-rise in downtown Chicago designed by a Black architect, John Warren Moutoussamy, in 1971; and the selection of Diébédo Francis Kére, the well-known native of Burkina Faso and principal of Kére Architecture in Germany, as Laureate of the prestigious Pritzker Architecture Prize, in 2022.
Another wall features photos and capsule bios of prominent Black architects, including John Anderson Lankford, the first Black architect in the United States with an established architectural office; Sir David Adjaye, designer of the Smithsonian Museum of African American History and Culture in Washington, DC, completed in 2016; Germane Barnes, principal with Studio Barnes in Miami; and Tiara Hughes, AIA, NOMA (National Organization of Minority Architects), senior architect with Skidmore, Owings & Merrill in Chicago. Barnes and Hughes are also featured in a continuous loop of short videos with Curtis J Moody, FAIA, chairman of the board of Moody Nolan Architects in Columbus, Ohio.
'The Black Creativity: Architecture exhibition is a testament to the rich heritage of Black architects who, through dedication and ingenuity, brought their designs to life,' said MSI president and CEO Chevy Humphrey in a press release. 'Our hope is that this exhibition will not only spotlight the achievements of past and present African American pioneers, but also inspire the next generation of innovators.'
'Black Creativity: Architecture' runs concurrently with the 'Black Creativity Juried Art Exhibition', which continues through 23 April 2023
msichicago.org (opens in new tab)