Barbar, Batara: Anne Holtrop's immersive models take over Solo Gallerie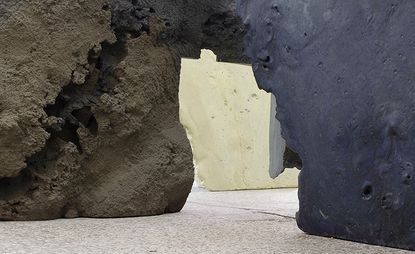 (Image credit: Bas Princen)
Paris (opens in new tab)-based gallery Solo has just launched its third ever show; a new exhibition by inspiring and unconventional Dutch architect Anne Holtrop. The exhibit, titled 'Barbar, Batara', draws on photographer Bas Princen's series on Petra, Jordan and the excavation of the Barbar Temple in Bahrain.

For most, architecture is defined by the physical presence of bricks, mortar, concrete and glass, but not for Holtrop. Instead, the architect sources his inspiration from the unexpected. 'The way someone can see a butterfly or a lake in the ink blots of a Rorschach test. I want to look freely – more or less without a plan', explains Holtrop.

The first part of the show – 'Batara' – is a collection of five immersive full scale models. These 'objects' are sand casted walls without doors or windows and without a specific function. They have little relation to a specific typology or architectural style, referencing instead something 'prehistoric and primitive,' says Holtrop.

The project began with a visit to the ancient city of Petra, where Holtrop drew inspiration from the transition from natural to man-made, which Princen's photography captured over the duration of his visit. The walls of this installation reflect this particular aesthetic. 'Concrete or plaster is poured directly into pits of earth or sand, giving the walls a smoothness on one side and a rough, uneven surface on the other', says the architect.

'Barbar', the second part of the exhibit, is a series based on the rediscovery of the Barbar Temple in Bahrain in 1954 and the excavations of the site which continued up until 1962. Taking cues from the temple's formal language, Holtrop uses arches and straight lines to form a loose pattern to create an interior atmosphere that pays tribute to the monument. A collection of forms carved out of pink marble resulted from this investigation, which Holtrop named Floor.
INFORMATION
'Barbar, Batara' will run at Solo Galerie until 7 May. For further information visit the Solo Galerie website
ADDRESS
Solo Galerie
11 Rue des Arquebusiers
75003 Paris
VIEW GOOGLE MAPS (opens in new tab)