Back to the future: Bureau V designs National Sawdust music hall in New York
Brooklyn-based architecture firm Bureau V transforms an old Sawdust factory into a state-of-the-art music hall in Williamsburg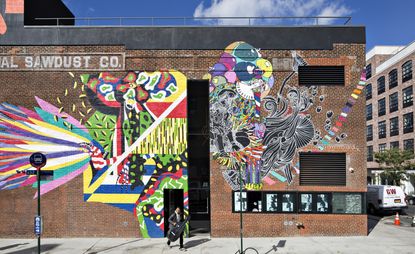 (Image credit: Floto+Warner)
'In order to move forward, we decided to look back,' says architecture firm Bureau V of its $16 million design for a new music hall in Williamsburg. 'At its core, the design of National Sawdust is a retooling of the 18th century chamber hall model as an incubator for new music.'
Conceived as a non-profit music venue, the Sawdust provides a space for emerging composers and musicians to compose, experiment, rehearse, record, and showcase new work.
Named after the factory that once inhabited the century-old building, the National Sawdust looks relatively unchanged from the outside with its brick facade and original signage, however on the inside, the 1,200 square metre crystalline interior could not be more different. Through the double-height black-tiled lobby, crowned with a custom marble and neon chandelier designed by Bureau V, a 10ft x 10ft acoustically-rated, vertically-sliding door opens to reveal the theatre's show-stopping chamber hall within.
Wrapped with a translucent skin made from angular panels of perforated metal and fabric composite, the chamber hall was developed in collaboration with the acoustics and theatre teams at Arup, who helped Bureau V devise the state-of-the-art, acoustically-driven design. The chamber hall, which is essentially a box-in box construction floating on spring isolators within a concrete shell, is equipped with a wrap-around balcony and custom variable stage configurations that can be lowered to sit flush with the floor.
To help aid and optimise the complex design process, Bureau V wrote a series of custom software programmes that enabled them to seamlessly integrate the new structure with the existing shell along with an A/V infrastructure, spatial acoustic strategy and lighting requirements.
Fitted with custom chairs designed by Bureau V, the new design is able to accommodate a 70-piece orchestra for rehearsals and recordings, 170 patrons in row seating, 120 patrons in cabaret seating, or up to 350 standing guests. The building will also house two bars and a restaurant, also designed by Bureau V, featuring James Beard Award-winning chef Patrick Connolly
Led by Stella Lee, Laura Trevino and Peter Zuspan, Bureau V is a Brooklyn-based design studio and the National Sawdust is the firm's first completed building. 'To be a part of this project from its conception through its forthcoming completion, and now to be part of its future has truly been a dream,' says Bureau V's Peter Zuspan, who is also the Secretary of the non-profit's Board of Directors and a curator at National Sawdust. 'For National Sawdust's founder, Kevin Dolan, to have trusted a young and largely untested studio, who had never built a building, with the design of a project like this one is a testament to his vision. I know of no other institution that supports and takes risks on young artists with this level of commitment.'
Accessed through a 10ft x 10ft acoustically-rated, vertically-sliding door, the acoustically-driven chamber hall is wrapped with a translucent skin made from angular panels of perforated metal and fabric composite
Designed to accommodate a 70-piece orchestra for rehearsals and recordings, 170 patrons in row seating, 120 patrons in cabaret seating, or up to 350 standing guests, the chamber is equipped with a wrap-around balcony and a variable stage set that can be raised up or lowered to sit flush with the floor
INFORMATION
For more information visit National Sawdust's website (opens in new tab) or Bureau V's website (opens in new tab)
Photography by Floto+Warner
ADDRESS
80 North 6th Street (at Wythe Avenue)
Brooklyn, NY
VIEW GOOGLE MAPS (opens in new tab)