Out of office: coffee and creative small talk with Amanda Levete
Bodil Blain, Wallpaper* columnist and founder of Cru Kafé, shares coffee and creative small talk with leading figures from the worlds of art, architecture, design, and fashion. This week, it's London-based architect Amanda Levete, who founded her award winning practice AL_A in 2009 with co-directors Ho-Yin Ng, Alice Dietsch and Maximiliano Arrocet.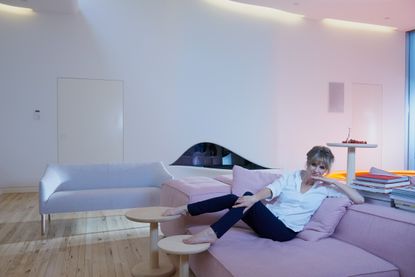 (Image credit: Photography: Tim Gutt)
Bodil Blain: How do you take your coffee?
Amanda Levete: Espresso with hot milk, only at breakfast. The old-fashioned Italian way. I love it. I was in Paris recently for work and I met this guy for lunch – he's French, lives in London and was going back on the Eurostar – he had with him three bags of coffee and the smell was so amazing, so heady. It was Costa Rican from Bonmarche and I went the next day to get some because the smell was so good.

BB: When did you first know you were creative?
AL: I was at a very academic school, which I really didn't enjoy. I loved anything that wasn't academic – sport, art... I was always in the art room. It was a way of self-expression, a reaction to the environment around me. I was very clear from the start that I wanted to be an artist and if you take that position at a school like that, you get put in a certain channel and they give up on you a bit. Leaving school at 16 was the best thing that ever happened to me – I was in control of my own destiny.

BB: What did you do next?
AL: I went to art school. I read a lot about history of art and, through that, I discovered architecture. It had never been on my radar before.
' It's important to surround yourself with people who are not only talented, but also who challenge you'
BB: How did you know it was for you?
AL: The design of buildings embodies so much of what it means to be human. It's about identity, national identity, social issues, political issues. It's deeply creative, very technical, and very conceptual. As an artist you're on your own, on a personal quest, whereas architecture is collaborative; you have to take on board other people's views, maybe even take inspiration from them. It's a discipline that has a built in resistance and I respond well to that; I like the challenge.

BB: Who do you think has been your biggest influence professionally?
AL: My former husband Jan Kaplicky, and Richard Rogers, both very powerful, very different minds. Jan was profoundly talented and a brilliant draughtsman, an original thinker not afraid to go against the status quo. Richard is also a great thinker and attracts the very best talent around him.
BB: How do you organise your firm?
AL: As a group of four directors, we work together on all projects and start with a conversation never a sketch. We talk around the subject, the client, the site, the institutional analysis – we resist making a move until the last possible moment. It's about trying to understand what it is that's going unlock the building, so to speak. And, we all own the project together, it's not about ego. That's what's so stimulating here: it's important to surround yourself with people who are not only talented, but also who challenge you. It's so important to establish a culture and a spirit in an office, and once you do that, people own that and you develop a collective work ethic. At that point the work begins to take care of itself. There is a sense of common purpose. I've never been happier as an architect, nor has the office been so productive or creative. We have a 50/50 gender balance in the office – which is almost accidental – but it has really made the office a happier place.

BB: What does it mean to be an architect in the current environment?
AL: The role of the architect is being diminished and marginalised. The competitive environment we have right now means we're giving it away for nothing and we're being asked to do too much: we spend so much time developing ideas and we lose more than win. But there's also something compelling about the competition process – you're working so intensely for a very short time, in a vacuum, away from the client. It gives you a certain sort of liberty that you wouldn't otherwise get and every competition that you do increases your repertoire.
Recently completed projects by AL_A include the Victoria & Albert Museum Exhibition Road Quarter (2017) (opens in new tab) in London and MAAT (2016), a Museum of Art, Architecture and Technology in Lisbon.
BB: How much do you think your personality has played a role in your success?
AL: It's very difficult for me to separate who I am and what I do. Other people can make that observation from a distance, but it's very difficult to look at yourself like that. Sometimes when I look back at decisions I've made throughout my career, I think 'hmm, that was brave'. I am impulsive, and I suppose, competitive. You have to want to win in order to win work. But what drives me, is a desire to make a difference in some small way and for every project to add to the debate. It might be pushing a material to its limits; a new piece of conceptual thinking; a completely new way of making things; it could be a technical innovation, but when you're working on it, you know what it is that makes it special, different. You don't hit it every time, but you know when you've got it. If I'm confident that what we've done is really good, it makes losing even harder but in the long run you profit from good work.
BB: What buildings, other than those you've designed, do you admire? Well, the Centre Pompidou is one of the most important buildings of the 20th century, because it literally turned upside down how we see museums. Instead of a museum being this grand, impenetrable fortress of culture, it became open and democratic. The building has a unique relationship with the space outside and this is as important as what is inside. It's completely changed the architecture of museums, forever. Another is Frank Lloyd Wright's Guggenheim in New York, it was so unexpected to completely challenge the uniformity of the Manhattan grid like that. I think there's certainly room for galleries that are more neutral and then also for spaces like that, which demand the collection, show or work has a relationship to the space in which it is put. It's a challenge to the curator.

BB: Is your home important to you? I love my home. It's very open and informal and encourages a certain way of socialising and interacting. I would love to do the 'definitive house'. We don't often get asked. It's very easy for architects to get categorised, but for me, the most interesting work is that which has a public purpose – its more complex and multidimensional.

BB: If you weren't an architect, what do you think you would be? I wanted to be a restauranteur – although I did that for a very short moment – we had a pop-up restaurant in Soho for three months serving only tinned fish. I would have liked to be a doctor or a barrister. I remember reading Ibsen's The Master Builder as a student and thinking I'd love to make a film about it. There's something very cinematic about architecture. Narrative in architecture is very important to me. There are many parallels between film and architecture: it's deeply collaborative, you work to the same long time frames, you bring people together from many different disciplines. One of the great joys of being an architect is the people you meet and entering a world you didn't know anything about previously. You have to immerse yourself in that world and you come out changed.
A version of this article originally featured in the October 2018 issue of Wallpaper* (W*235)
INFORMATION
For more information, visit the AL_A website
crukafe.com (opens in new tab)