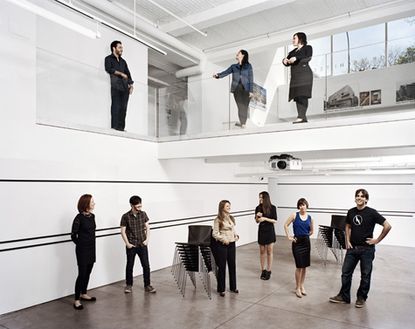 (Image credit: press)
Anna Dietzsch is a senior associate at Davis Brody Bond Aedas.
What are you currently working on?
I am currently in the Amazon, looking into the possibility of building a library and community centre to service those living in remote villages along the Amazon river. We just finished a four million m2 masterplan study for a small city north of Sao Paulo and are about to start the design of a linear park in Sao Paulo itself.
Why did you end up working in New York rather than returning to Brazil?
When I completed my Masters at Harvard in 1998 the economy in the US was strong and there were plenty of opportunities. I got involved in interesting projects, mainly with institutional and civic programs, which I would probably not have had the chance to get involved with in Brazil, and continued postponing my trip back. Now I have an American husband and a child.
Do you think there are many opportunities in Brazil if you are an architect?
Yes. Right now the market is hot in Brazil. But architecture is not a valued profession there; competition is huge, fees are small and certain perverse habits are acceptable. For example, it is common for architects to prepare elaborate studies for free.
What things do you miss most about Brazil?
I miss the relaxed environment and the friendliness of Brazilians. Americans are great to work with - extremely objective and efficient - but I am not sure they are that easy to befriend, beyond superficial contact.
What would a perfect night out in Brazil involve? Where would you go and what would you do?
I am from Sao Paulo, where the food is excellent. Paulistas are absolutely convinced they have the best pizza in the world! The perfect night would involve eating at a good restaurant and dancing after that.
Receive our daily digest of inspiration, escapism and design stories from around the world direct to your inbox
Emma O'Kelly is a contributing editor at Wallpaper*. She joined the magazine on issue 4 as news editor and since since then has worked in full and part time roles across many editorial departments. She is a freelance journalist based in London and works for a range of titles from Condé Nast Traveller to The Telegraph. She is currently working on a book about Scandinavian sauna culture and is renovating a mid century house in the Italian Lakes.