New home for Albert Frey's Aluminaire house revealed at Palm Springs Modernism Week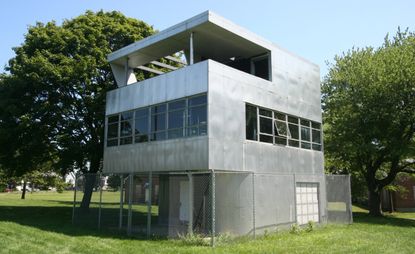 (Image credit: Jenosale)
A year ago, a flatbed truck brought the contents of Albert Frey's famous pre-fab Aluminaire house from a warehouse in New York, to a vacant lot in Palm Springs for a special ceremony marking its arrival (complete with the mayor and assorted archiphiles and patrons.)

One year later, Modernism Week (opens in new tab) will host the unveiling of a full-size graphic display of the house – originally designed for the 1931 Allied Arts and Industry and Architectural League Exhibition in New York – that will reveal the next step for the well-travelled modernist gem.

From the mountainous outpost of the 1964 Frey House II that gazes over a city in flux, you can see the new seven-storey Kimpton Hotel and retail development (opens in new tab) where an adjacent soon-to-be completed park will become the Aluminaire's new home.

Aluminaire house installed at its former location.
More information about the park, designed by Mark Rios and Nate Cormier of Rios Clementi Hale Studios, as well as the exact site for the reassembled steel and aluminium house slated for installation in 2020, will be shared at the Palm Springs Art Museum, on 23 February 2018 (opens in new tab). This will be followed by a discussion with architects Michael Schwarting and Frances Campani, patrons and saviours of the Aluminaire for the last two-and-a-half decades, followed by a fundraiser for the once homeless house.

The three-storey aluminium and steel home, was assembled in just 10 days and co-designed by A. Lawrence Kocher, the managing editor of Architectural Record, and a 28-year-old Frey, who had recently emigrated to America after working for Le Corbusier. The home was intended to be an example of the possibilities for mass-produced affordable housing using inexpensive materials and enjoyed 100,000 visitors during the one-week exhibit.

As the first all metal pre-fabricated house in the US, and one that brought together the concepts of mass production and high density community planning, it galvanised a new American architectural movement, and was featured in the first exhibition of architecture in 1932 at New York's Museum of Modern Art.
A sketch of Aluminaire house by Albert Frey
After the exhibition, architect Wallace Harrison acquired it for his estate in Huntington, Long Island, where it was relocated several times. It was narrowly saved from demolition in the late 1980s by Schwarting and Campani who had it donated to the New York Institute of Technology on Long Island, where it was restored and reassembled. When the campus closed in 2013, it ended up in storage in a shipping container in New York.

Several years later when Schwarting and Campani presented on Aluminaire at Modernism Week (opens in new tab), their talk inspired creation of the California chapter of the non-profit Aluminaire House Foundation dedicated to raising funds to bring the house to Palm Springs.

It's been a long haul for the nomadic Aluminaire, but it seems to have found a permanent home in Palm Springs, where its architect Albert Frey honed his unique desert modernism and left a lasting legacy (including the city hall). Now the 1931 classic will join its younger siblings in a happy architectural family reunion.
INFORMATION
For more information, visit the Modernism Week website (opens in new tab)