A Portuguese show recounts 90 years of Brazilian architecture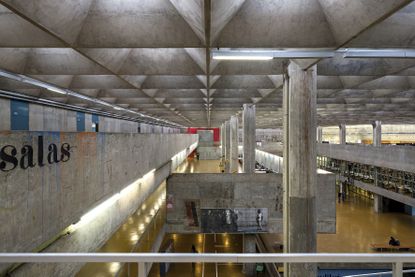 (Image credit: Leonardo Finotti)
A major exhibition in Portugal – the culmination of two years' planning – depicts how Brazil's rich but often turbulent history has given rise to an extraordinary collection of architecture over the last 90 years. The Matosinhos-based architecture institution, Casa da Arquitectura, has worked with Brazilian commissioners and curators Fernando Serapião and Guilherme Wisnik to assemble the 'Brazilian Architecture Collection'; the first endeavour led by its executive director Nuno Sampaio to expand the house's ample archive of local architects, including Eduardo Souto de Moura, Álvaro Siza Vieira, Pedro Ramalho and João Álvaro Rocha, into an international repository.

The collection – no fewer than 103 projects, with more than 4,700 physical pieces and 45,500 digital pieces donated by more than 150 donors, including universities, foundations, institutes, the architects and their heirs – arrived at the house in July. The rich and original compilation brings together several generations of Brazilian architects portraying the diversity of architectural production from modernity to contemporaneity across 90 years.

As one of the best equipped conservation and archiving facilities dedicated to architecture documentation in the world, 'It's our responsibility to the people who entrusted their work to Casa da Arquitectura to preserve, safeguard, curate and exhibit such achievements of human history of civilisation', Sampaio says. Ninety epoch-making architectural projects from the collection have been selected and chronologically organised in six modules for the exhibition 'Infinito Vão - 90 Years of Brazilian Architecture', which opened on 28th September.

The story starts in 1924, the year marking the beginning of the Brazilian Modern movement. From a deeply traditional society and the last Western country to abolish slavery, Brazil was reinventing itself as an urban, industrial culture. From Gregori Warchavchik's Casa Modernisa in São Paulo to Oscar Niemeyer's Pampulha Modern Ensemble at Belo Horizonte, the landscape saw seemingly instantaneous changes. The 1940s and '50s witnessed a generation of utopians, who sought to change the country, while architecture went bold and vast; new cities in Amapá and Mato Grosso culminated to the building of a new capital, Brasília, masterminded by the 21st President of Brazil, Juscelino Kubitschek, and executed by architects Niemeyer and Lucio Costa at the end of the decade.
In 1964, a military coup led to a dictatorship. The concrete home built by Rui Ohtake and Hans Broos's industrial complex Hering Matriz, based on reinforced and exposed concrete, are symbolic of a generation in which weighty architecture represented the political vision and ambition of the ideology of the Brazilian Communist Party. The headquarters of the São Francisco Hydroelectric Company by Assis Reis, the Sao Paulo barrel factory's Sesc Pompeia by Lina Bo Bardi, together with roads through the Amazon area and industrial cities were examples of the 'economic miracle' brought by the military regime in the 1970s.

Power propitiously changed hands again in 1985, and the new civilian government planned for democratic rule and new social projects. In contrast to the military's large, stark housing estates, Jorge Mário Jáuregui built the Favela-Bairro Rio das Pedras programme in Rio de Janeiro, while in São Paulo, cooperatives dispensed with large contractors by employing brick masons and collectivist forms of work. Based in Bahia, João Filgueiras Lima took Niemeyer's 'free forms' as inspiration for his factories that made the materials for Sarah Kubitschek's network of hospitals throughout Brazil.

Stepping into the new millennium, the prospect of social and economic growth brought about new challenges, which were met by a hedonistic approach to architecture in its cultural buildings together with activism among collectives and social movements. The Novo Santo Amaro V Park Housing project by Héctor Vigliecca, Square of the Arts by Brasil Arquitetura and Marcos Cartum all looked into the role of architecture in meeting the demands of the contemporary society.

'There are the different degrees of connection we can have with architecture,' Serapião says regarding the preservation and exposition work in the house. 'The first is through the lens of the media in general; the second is direct physical encounter, when one sees and touches and feels the presence of a piece of architecture; the third is to examine the original documentation – texts, sketches, drawings and models produced by the architects throughout their creative process, and this is the closest one can get to the architect's mind and vision.'
INFORMATION
'Infinito Vão - 90 Years Of Brazilian Architectue' is now on at the Casa da Arquitectura. For more information visit the organisation's website
ADDRESS
Casa Da Arquitectura
Av. Menéres 456
4450-201 Matosinhos
Portugal
Receive our daily digest of inspiration, escapism and design stories from around the world direct to your inbox
Yoko Choy is the China editor at Wallpaper* magazine, where she has contributed for over a decade. Her work has also been featured in numerous Chinese and international publications. As a creative and communications consultant, Yoko has worked with renowned institutions such as Art Basel and Beijing Design Week, as well as brands such as Hermès and Assouline. With dual bases in Hong Kong and Amsterdam, Yoko is an active participant in design awards judging panels and conferences, where she shares her mission of promoting cross-cultural exchange and translating insights from both the Eastern and Western worlds into a common creative language. Yoko is currently working on several exciting projects, including a sustainable lifestyle concept and a book on Chinese contemporary design.