Omer Arbel's Pacific North West house is built on concrete 'lily pads'
Construction progresses fast at OAO's new residential design in Canada's Pacific North West, where Bocci creative director and practice founder Omer Arbel's sculptural concrete and experimental methods take centre stage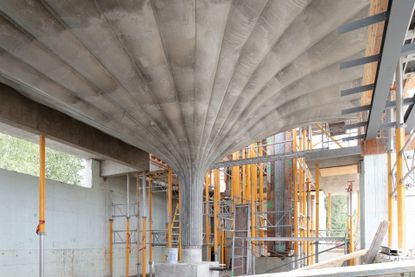 (Image credit: Press)
A new residential project under construction in Canada's Pacific North West is a beguiling blend of ornament and minimalism, emphatic curves and defined lines.

Designed for a private client by Vancouver-based OAO, 75 (as the house is called) is built on a constellation of fluid and organic fabric-formed concrete 'lily pads' with hollow tops that can accommodate the roots of trees. 'These "reverse trumpets" are each a different footprint and height and composed relative to each other with an intent to weave domestic space in a cinematographic manner over, under, and through them,' explains Omer Arbel, founder of the practice, who was inspired by the way archaeological ruins are often presented within modernist boxes in museums. 'I was interested in considering the fabric formed concrete almost as if they were found artefacts on the site, with our task being to enclose them. I enjoy the contrast and tension between these different expressive languages.'

As a studio OAO is committed to developing experimental and innovative methods of making derived from a material's intrinsic chemical, physical or mechanical properties. With 75 they set out to explore methods of pouring concrete that would acknowledge the material's paradoxical qualities – plasticity and hardness – and formulate a process that acknowledged its dynamic and sculptural aspects instead of forcing it into a conventional linear application.
The uncommon concrete forming process they landed on to make the nine ribbed 'lily pads' involved stretching sheets of geotextile between plywood ribs erected in a radial configuration on a foundation. 'Traditionally, concrete is poured in several lifts, allowing each to cure before the next is poured, however in our case this was impossible because of the risk of one lift seeping between the extents of the previous lift and the fabric,' says Arbel. 'In collaboration with our engineer we developed a very slow continuous pour schedule, with the formula for the concrete adjusted so that it cures at the same slow rate as the pour. In this way the base of the stem gains enough strength throughout the duration of the pour to support the subsequent volume of fresh concrete higher up.'

The house is located on a flat hay farm in an agricultural suburb of Vancouver and the architects treated the field like a carpet to be draped over the house, with the lily pad forms (also appealingly described by Arbel as Chanterelle mushrooms) punching through a cedar-clad façade that will eventually turn silver. Instead of contrasting or offsetting the region's oft grey rainy skies, the architects chose to embrace it with an exterior palette of different greys (in the form of grey timbers and metal). For three weeks a year however, the flowering magnolia trees planted in the lily pads on the house's inhabitable roof will bloom, providing a memorable flush of colour.
INFORMATION