Class act: 6a Architects design accommodation for Cambridge students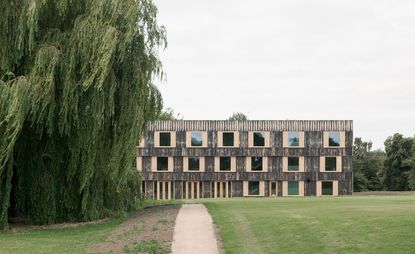 (Image credit: 6a Architects)
Architects at 6a have designed an environmentally friendly courtyard building for students' accommodation at Churchill College in Cambridge. Nestled into nature on the spacious campus, the blocky brutalist design of the building is softened with untreated reclaimed oak facades.

Cowan Court is the first completely new courtyard building to be added to the modernist campus of solid, low lying architecture since the 1960s. Quoting the original buildings designed by Sheppard Robson, the architects matched the square courtyard size to existing courtyards and followed the strong horizontal emphasis.
Churchill College, which was founded as a memorial to Winston Churchill, is located a short distance from the centre in West Cambridge and consequently Cowan Court is set comfortably apart from the main site, reached by a short path through open green space and surrounded by playing fields and trees.

The three storey building, which houses 68 rooms for students, is covered with untreated reclaimed oak cladding and on the ground level, new pale oak cladding lines the covered corridor which runs around the courtyard. These cloisters provide a sheltered outdoor space, with the central court filled with bark and trees, intended for students to congregate.
With triple glazing, passive ventilation and super insulation, the building is neatly designed to reduce and conserve energy use. In addition, solar electricity and rainwater collection schemes contribute to its environmentally friendly design.

Subtly monolithic, Cowan Court rises from the landscape gently on a misty day, yet also blends into nature like a sensible bird-watching hide on the Norfolk broads – humble and defiantly understated. Excelling in its brilliantly functional and environmentally focused design, Cowan Court is a beautiful satellite to its Sheppard Robson mother ship.
INFORMATION
For more information, visit the 6a Architects website (opens in new tab)