PETER BRAITHWAITE STUDIO
WALLPAPER* ARCHITECTS' DIRECTORY 2019: Canadian architect Peter Braithwaite trained as a carpenter before studying architecture, then working for MacKay-Lyons Sweetapple and Omar Gandhi. His Nova Scotia-based studio sets out to combine design and construction in a single practice, and projects include his own Back Bay Studio (pictured), which emulates the locale's rugged terrain.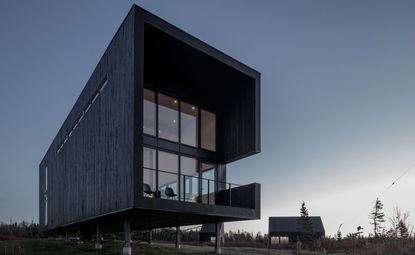 (Image credit: press)
Bay Bay Studio, Nova Scotia, designed by Peter Braithwaite Studio, selected for the Wallpaper* Architects' Directory 2019 (opens in new tab)
Architectural design and construction go hand-in-hand on paper. In practice, however, conflicts of interest may arise between firm and developer over creativity versus practicality, vision versus budget and so on. Canadian architect Peter Braithwaite operates on both sides of the design-construction coin, breaking down all boundaries between the two disciplines in his work.

He is trained in carpentry, cabinetry, environmental design and, of course, architecture, all of which informed the establishment of his eponymous design-build practice Peter Braithwaite Studio in 2014. Canadian architectural heritage sits at the centre of Braithwaite's design influences, which capture the nation's material fervor for timber.
'Atlantic Canada has a rich cultural history of light frame wood construction which is rooted in a deep understanding of boat building traditions,' explains the architect. 'This local history is the foundation for our pride in wood design and craftsmanship and is exemplified in all the projects we undertake.'
These historical cues are made tangible in Back Bay Studio, Braithwaite's self-designed firm headquarters in the remote fishing community of Terence Bay. Locally sourced slates of wood and aluminium siding combine in the construct's monolithic rectangular exterior, which both ages naturally and withstands the bitter southern Nova Scotia climate.
Visiting clients pursuing residential and commercial projects will be met with dramatically framed views of cliffs, hillsides and ocean from sprawling wall-height windows over the two storeys. Quiet interiors only draw closer attention to the theatrical landscape, demonstrating a considered approach to design uninterested with loud showboating or complexity for complexity's sake.

On designing homes for his clients, Braithwaite is only interested in bringing genuine improvement to the quotidian. 'Our studio enjoys investigating the intricacies of our clients' daily routines,' he continues. 'As a result, design becomes an extension of their lives and plays a meaningful role in their everyday life.'
WALLPAPER* ARCHITECTS' DIRECTORY 2019 (opens in new tab)
INFORMATION
peterbraithwaitestudio.com (opens in new tab)
WALLPAPER* ARCHITECTS DIRECTORY 2019 (opens in new tab)