MALL
WALLPAPER* ARCHITECTS' DIRECTORY 2019: Jennifer Bonner founded MALL in Boston in 2009. The acronym stands for 'Mass Architectural Loopty Loops', or 'Miniature Angles & Little Lines', or even 'Maximum Arches with Limited Liability', expressing Bonner's playful reimagining of ordinary architectural functions, as shown by Haus Gables, her twist on a traditional gable-roof house in Atlanta, Georgia.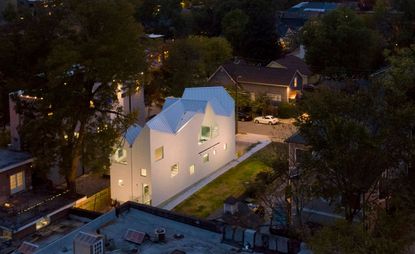 (Image credit: Tim Hursley)
Wallpaper* Newsletter
Receive our daily digest of inspiration, escapism and design stories from around the world direct to your inbox
Thank you for signing up to Wallpaper. You will receive a verification email shortly.
There was a problem. Please refresh the page and try again.
Haus Gables, Atlanta, Georgia, US, designed by MALL, selected for the Wallpaper* Architects' Drectory 2019.
Born in Alabama, Jennifer Bonner is assistant professor of architecture at Harvard University Graduate School of Design. She's also the director of what she describes as a creative practice for art and architecture called MALL, which she set up in 2009 and whose name stands for, ahem, Mass Architectural Loopty Loops.

An alumnus of Foster + Partners and David Chipperfield Architects, Bonner evidently doesn't take herself too seriously, but her work – while it has a playful side – has academic depth. Designed and developed by Bonner, Haus Gables in Atlanta is MALL's first completed residence.
'Without a traditional client or family member to commission a project, my husband and I took out a construction loan to build the house in Old Fourth Ward, a neighbourhood that we really love.' Haus Gables takes a novel approach, being designed from top down rather than bottom up. Where most houses take their roof shape from their ground plan, here it's the other way round.

As Bonner explains, 'The roof plan establishes rooms, catwalks, and double-height spaces in the interior by aligning these spaces to ridges and valleys in the roof above. In this case, the floor plan is a result of the roof.' The house uses novel materials as well: the prefabricated main structure, erected in just 14 days, is made from cross-laminated timber, and the interiors are decorated with faux materials such as vinyl 'marble' and tiled 'terrazzo', while two of the outside walls are covered in stucco 'bricks' impregnated with glass beads.
According to Bonner, this follows 'an old tradition of faux­finishing in the American South, historically stemming from an inability to afford precious materials, and the subsequent desire to "fake it".

'Haus Gables is both an experiment (an architect's first building) and a proof-of-concept related to my past research of American roof typologies,' Bonner says. 'The project is trying to be daring by pushing form, construction systems, structure, and materiality.'

Bonner's first house project was certainly ambitious, and it shows. Bonner describes the experience as 'liberating and addictive'. Setting up her practice just after the Great Recession of 2008 had meant that the majority of MALL's early work was inside the gallery. 'I would say my biggest lesson is to continue to build, as quick as possible, but without losing quality.'
INFORMATION
WALLPAPER* ARCHITECTS' DIRECTORY 2019
Receive our daily digest of inspiration, escapism and design stories from around the world direct to your inbox