Victoire de Castellane's latest Dior Joaillerie collection Rose Des Vents reaches for the stars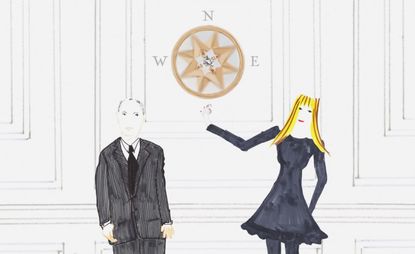 (Image credit: Dior)
4238099613001
To accompany her new Dior Joaillerie collection, creative director Victoire de Castellane has produced a set of ten naïve but charming felt tip pen drawings, instigated by a dream she had about Monsieur Dior
Repeating and re-interpreting house signatures and key motifs are a common denominator for most luxury jewellery brands blessed with a wealth of archival references - Chanel, Bulgari and Harry Winston are key examples. Yet it's hard to think of a creative director who has such a visible, (but imaginary) continual dialogue with a house's founder, as Victoire de Castellane with Christian Dior.

And in her role as creative director for Dior Joaillerie, de Castellane has now taken this relationship a step further. To accompany her first new fine jewellery collection in three years, entitled Rose des Vents, de Castellane has produced a set of ten naïve but charming felt tip pen drawings, instigated by a dream she had about Monsieur Dior. The imagined narrative sees them meeting on the grand staircase of the house headquarters at 30 Avenue Montaigne, designing the new collection together, having her cards read by the notoriously superstitious Mr Dior, before dressing her for a party to celebrate its launch.

Drawings of this style are not an unusual creative expression for de Castellane - her personal Instagram account is littered with endearing sketches of friends and inspirations, both past and present. However, this series is the most comprehensive demonstration of just how all-incompassing her fascination is.

Roses des Vents is a neat encapsulation of multiple historical references, all wrapped up in a tight edit of nine different pieces. A double-sided disc of carved stone, smooth and tactile in its quality, is backed by a gold 8-pointed star, the wind rose. Dior was first introduced to the symbol as a young boy - it was picked out in mosaics at the bottom of the swimming pool at his childhood seaside home in Granville. Roses filled the gardens and were also to prove an enduring symbol for the house. Later a chance finding of a star charm by Mr Dior on the streets of Paris was to cement his fascination with the symbol; he would carry it around in his pocket, and credited it to the success of his eponymous house, which he founded shortly afterwards.

These slight, delicate pieces are a clever condensing of all of this, layering meaning and history into what are relatively tiny spaces (these jewels are not about impact, rather a wearable luxury good luck charm). Most interestingly they reveal lots about the house of Dior - not only historically, but also by serving as a revealing insight into the musings and processes of its current creative director.