My life in colour: Paloma Picasso recaptures the glamour of 1980s New York for Tiffany & Co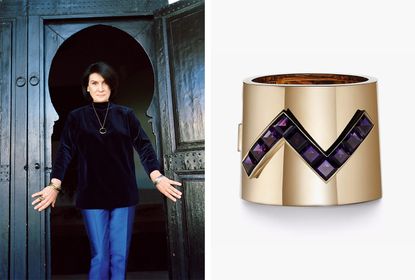 (Image credit: Left: Pierpaolo Ferrari. Right: Courtesy of TIffany & Co.)
'I really only like big gems, strong colours, big rings and big jewels. Art was a language spoken around me all the time when I was growing up, so colour is a natural preoccupation, my number one priority. It's what makes me tick,' so said Paloma Picasso.

The designer was appointed Tiffany designer in 1980 and has worked for the New York jeweller ever since. This month, she returns to the era she did much to define, casting her chromatic eye across Paloma's Studio Collection of bold-gem rings and cuffs. The designs shimmer with all the glamour, wit and style of her social circle at the time – Warhol, Saint Laurent and Capote, among it.

'The 1980s was such a great time. I was very much part of that New York scene that people were looking at, to see what direction to go in and I wanted my image to portray what I was feeling,' the designer tells us on her recent trip to London.

'Someone took a Polaroid of me and my skin looked very white, my eyes, eyebrows and beauty spot very black and my lips very red. The face disappeared and the eyes and lips popped. The Polaroid contrasts made me look fabulous – I had found my look.'

The Tiffany appointment, then, was a shrewd move on all sides. Not least because Picasso came to New York fresh from her home city of Paris. 'When I got to New York, I was shocked that it was filled with old buildings. I thought the city would be a completely majestic, art deco environment, all big buildings on a small island.'

It was the underside of New York life, the undiscovered landscape, that set her imagination alight, as Picasso connected with the downtown energy of Keith Haring, graffiti art and the grimy neon city lights. Picasso distilled all that she saw and became a pioneer of street art-inspired commercial design. She imagined illegal art as a fine one, creating gold criss-cross or heart motifs in her 1983 'Graffiti' collection. The new collection of graphic rings and cuffs is a deliberate riff on these 1980s designs, with bold paths of emerald-cut stones designed to create nothing less than a powerful presence on the body.
'There is a dialogue between you and your jewels,' Picasso says. 'I created these pieces so that you are able to see the colour as you wear them. But they are also infused with all the other things I discover every day – museum visits, concerts, music, listening to Grace Jones. I've known Grace since the 1980s, and saw her perform at Montreux Jazz Festival last year. She is still so good at being fabulous.'
Today, as a sparkling seam of 1980s cultural references continues to wind its way through a spectrum of creative disciplines, who wouldn't want a muse as fabulously in tune as Paloma Picasso to lead the way?
INFORMATION
The Paloma Studio Collection for Tiffany & Co consists of 25 pieces.
For more information, visit the Tiffany & Co website