As she designs new pieces for Tiffany & Co, Paloma Picasso on a process for happy surprises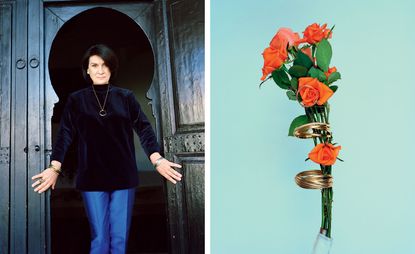 (Image credit: Pierpaolo Ferrari)
I didn't know then what I was going to be, but I was so afraid to be compared to my parents [Pablo Picasso and Françoise Gilot], it became an obsession: whatever I did there would be no aesthetic links to what they did, so that people could see my work as something of its own. This was a springboard for me to be my best. I knew I didn't have room to make errors, because everybody would be pointing and looking at the faults.

It was while I was living in Venice as a teenager that I started having ideas about jewellery design. It was the 1960s and women wore crazy jewellery. You would say hello and then, 'Aah!' – you would be attacked by a brooch or a necklace. I used to think, this is so wrong, jewellery should be something that feels good on the skin. Now, of course, I know the skill it takes to engineer jewellery to sit with the body.

My first Venice designs were shooting stars – colourful custom pieces that I manufactured myself. I took them to Paris to try to sell them. After the first meeting, they said 'put a price on this', but I had no idea how. That evening, I was at dinner at La Coupole in Montparnasse and Yves Saint Laurent was there. It shows how little I knew him at the time, because I thought, 'Oh, I can ask Yves!' I went over to his table and, after we'd had a chat, I said, 'I need to put a price on my jewellery; I don't know what to do.' Yves said, 'Come to the couture house tomorrow and we'll talk about it.'

Of course, we never discussed prices because that is something Yves never cared about. But when he saw the drawings, he said, 'They are really wonderful, I'd like you to come and work for me.' That's how my first designs came to be in Yves Saint Laurent boutiques.
'Paloma's Melody' pendant in gold; nine-band bangle in sterling silver, both as before; 'Paloma's Groove' rings in gold, £1,975; 'Paloma's Melody' five-band bangle in gold; 'Paloma's Sugar Stacks' earrings in gold and diamonds; 'Paloma's Melody' five-band bangle in gold and diamonds; 'Paloma Picasso' rubellite ring in gold, all as before, all for Tiffany & Co
By that time, I had become friendly with John Loring, a painter and writer. John knew I designed jewellery – I had even designed a piece for him. He was living in New York and one day he called to tell me some news. 'The people from Tiffany are looking for a design director and they have contacted me. What do you think?' he said. I told him it sounded fabulous. This was the late 1970s and I was in New York quite a bit. Just after John got the job, he told me Tiffany was looking for a new jewellery designer and I should apply. Tiffany was the epitome of America to me – the Eiffel Tower of New York. To be part of that was so liberating.

In New York, people judged me on what I created rather than my name. There was not much colour in jewellery design in the 1980s, so when I created these big pieces in semi-precious stones, people were surprised. My designs were bold, with a certain simplicity and strength, and a strong point of view.

Today feels like a new era for me in design. This year I am relaunching an existing Tiffany collection, the 'Melody', in a new guise, plus the new 'Groove' design. There is a sensuality to my work and the circle has always been a primary shape. I like its perfection, its voluptuousness. With the new collection I have also been able to add pavé, in diamonds and black spinel, which was not something we were able to do before, technically. We did try to add diamonds ten years ago, but the results were not good. Knowing we can now do a perfect job made me interested in revisiting 'Melody'.

'Groove' has been a more personal process. I wanted to design a wedding band for my husband. He felt rings didn't look good on his fingers, but I told him, 'I'm going to design one that I think you would want to wear.' I made these grooves, like tiny circles. There are eight grooves, which stand for infinity and a long-standing relationship – and the wedding band can stand up on its own. Isn't that great?

I didn't realise it was going to stand up, so it was a happy accident. But when you are designing with the right thing in your mind, you get these little surprises, these questions and answers as you go along. That's what makes me happy as a designer: that I am still learning, that I surprise myself. It keeps you alive.

As originally featured in the Precious Index, our new watches and jewellery supplement (see W*218)
INFORMATION
For more information, visit the Tiffany & Co website
Receive our daily digest of inspiration, escapism and design stories from around the world direct to your inbox