Time passage: Mondaine partners the Gotthard Base Tunnel in Switzerland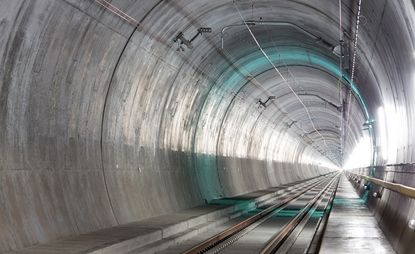 (Image credit: TBC)
Mondaine's Official Swiss Railways Clock is familiar to anyone who ever rode the rails in Switzerland, and now it marks a new milestone during the year of its 30th Anniversary. Or should that be 57 kilometre-stone?

That's the length of the Gotthard Base Tunnel (aka the GBT), which opened this week. The world's longest railway tunnel, the GBT provides the 'New Rail Link through the Alps' (NRLA), and Mondaine is the official partner of the project, responsible for setting the signal time for all rail transportation operating through it. Public travel begins in December 2016.

No one should be surprised: not only is Mondaine the official timekeeper for the Swiss railways (SBB), the clock's peerlessly lucid dial is so powerful that Apple even emulated it – and had to pay just over 20m Swiss Francs to the watchmaker to license the design for use as the iPad clock. The dial had become such a standard that Apple's clock design for iOS 6 resembled the trademarked dial, created in 1944 by SBB employee Hans Hilfiker and licensed to Mondaine since 1986.

Now gracing a family of pocket watches, wristwatches and clocks available to the consumer, the black-on-stark-white dial and Helvetica font of the Mondaine Official Swiss Railways Clock aren't the only things that make this dial a genuine design classic. The actual station clock has a novel feature to aid travellers, one that has since appeared in one of the wristwatches: the clock spreads 58 seconds rather than the full 60 over the 360 degrees of the dial. The seconds hand comes to a complete stop at '12' for two seconds, to create the sensation that time has stopped. Then, the minute hand advances one graduation and the seconds hand starts anew.

GBT's route length of 57.09 km (35.5 mi) includes a total of 151.84 km (94.3 mi) of tunnels, shafts and passages and comprises two single-track tunnels connecting Erstfeld with Bodio and passing below Sedrun. Thanks to the high-speed trains passing through it, journey times will be cut by as much as 1.25 hours. Its main purpose is to increase transport capacity across the Alps, ideally to shift freight from road to rail, thus reducing accidents and environmental damage caused by heavy lorries.

The brand is proud of its connection with the world record-breaking tunnel. Not least say Mondaine's owners, Ronnie and André Bernheim, because the partnership 'is characterised in particular by innovation and high craftsmanship'. Qualities, of course, central to the creation of a good watch.
No-one should be surprised: not only is Mondaine the official timekeeper for the Swiss railways (SBB), the clock's peerlessly lucid dial is so powerful that Apple even emulated it. Pictured: examples of the Gottardo NS collection
Now gracing a family of pocket watches, wristwatches and clocks available to the consumer, the black-on-stark-white dial and Helvetica font of the Mondaine Official Swiss Railways Clock aren't the only things that make this dial a genuine design classic. Pictured: Gottardo Collection
GBT's route length of 57.09 km includes a total of 151.84 km of tunnels, shafts and passages and comprises two single-track tunnels connecting Erstfeld with Bodio and passing below Sedrun
Its main purpose is to increase transport capacity across the Alps, ideally to shift freight from road to rail, thus reducing accidents and environmental damage caused by heavy lorries
INFORMATION
For more information, visit the Mondaine website (opens in new tab)